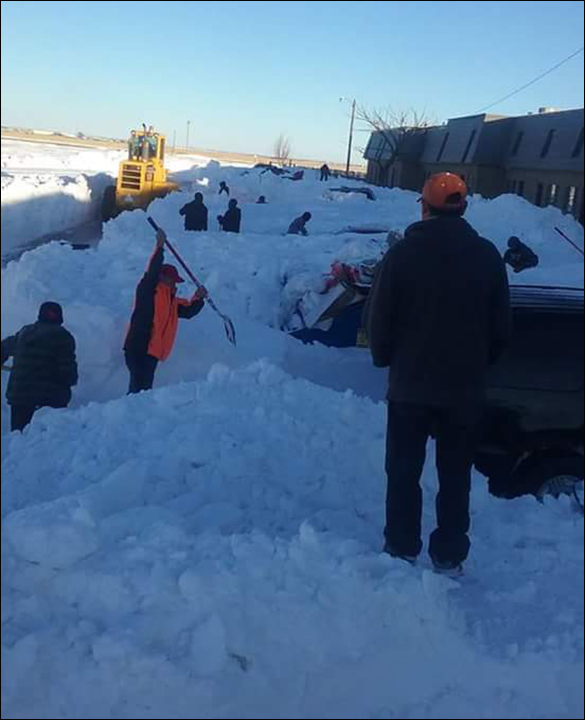 courtesy photo
Goliath Blizzard 2015. This great photo was posted on Facebook. It is on 14th Street in front of the Cottonwood Apartments. They are trying to dig out vehicles and clear doorways and the street for the apartment residents.
What is the town talk this week? Haha! The Big Giant Goliath 2015 Blizzard I reckon. For the record, I do not like snowy weather. (more...)
Blizzard 2015 shuts down the county
The stories are many. (more...)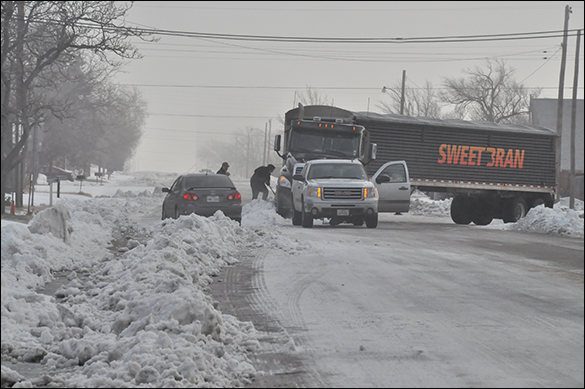 dana jameson photo
This photo pretty much sums up the news about the 2015 blizzard. This Sweet Bran semi- was one of several that got stuck turning off of Hwy 214 onto westbound 5th St. Good samaritans were abundant over the weekend as Friona received 20" of blowing snow with 5-10 foot drifts. Many private citizens took their time to find and help out stuck or stranded drivers. Others picked up hospital personnel and drove them to work. TxDOT graded Hwy 60 and 5th St. causing more piles of snow blocking side streets and parking lots.