Obituary
Olan Turner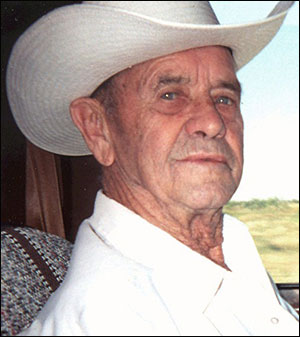 Olan Turner, age 92, of Abilene, passed away Friday, February 6, 2015. Funeral services will be held at 1 p.m., Friday, February 13 at First Baptist Church in Roby, Texas with Dr. Paige Patterson officiating. Christian burial will follow in the Roby Cemetery in Roby, Texas. Visitation will be held from 5 to 7 p.m., Thursday, February 12 at Morehart Mortuary.
Olan Wyatt Turner was born November 9, 1922 in Sylvester, Texas to parents Frank Olan Turner and Hattie Holland Turner. He married Letha Merle Moore on May 11, 1947 in Roby. Olan served in the United States Marine Corp during World War II in the Philippines as a mechanic. After being honorably discharged, he farmed at Roby in Fisher County until 1951 and then moved to Bovina/Friona in Parmer County in the Texas panhandle. In 1991, the Turners retired at Hubbard Creek Lake in Breckenridge. Mr. Turner had several hobbies including motorcycle riding, fishing, pheasant and dove hunting, collecting antique guns, genealogy, and was a Mason.
Olan loved life, respected life, and enjoyed visiting with all people. In the last couple of weeks of his life he was able to visit with both of his children, fulfill his last bucket list wish of meeting his second cousin, took care of his business, and told everyone goodbye and died peacefully.
He was preceded in death by his parents, Frank and Hattie Turner; and his wife, Letha Merle Turner in 2013 following a lengthy illness.
Olan is survived by one son, Jay Morlan Turner & wife Elizabeth of Woodland Park, Colorado; one daughter, Pamela Beth Turner Moore & husband Pershing "Pat" Moore of Southlake, Texas; siblings, Frankie Dickerson of Stamford, Wannett Barron of Oro Valley, Arizona, and Jackie Turner & wife Patricia of Bovina currently in Glen Rose; grandchildren, John Olan Turner & wife Fran of Pampa, Jaime Norwood of Anthony, Kansas, Patrick Lance Moore & wife Chrys of Portland, Texas, Jessica L'erin Begley & husband Jonathan of Cedar Park, Texas; and great grandchildren, Beau, Makayla, Melody and Madeline Norwood, Zaighlor Engleking Moore, Benjamin and Elijah Begley.
Condolences may be made online at www.morehartmortuary.net.