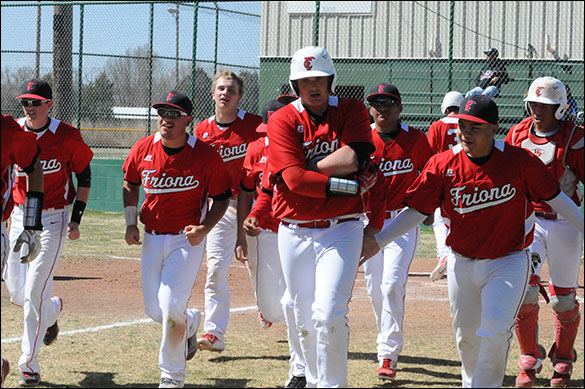 ron carr photo
It's "play ball" time for the Friona Chieftains. Brandon Berend, center in white helmet, is greeted at home plate after he hit a three-run home run in the 2nd inning of Saturday's doubleheader with Slaton. The Chiefs won both games, 10-6 and 4-2. New coaches this year are Jesus Quiroz, head coach, and David Woods, assistant coach. They will open district play Tuesday March 31 here vs. Shallowater. Game time is 4:30 p.m. Plans are that all district games will be broadcast on KNNK 100.5 FM, WT Services channel 6, or online at knnkradio.com.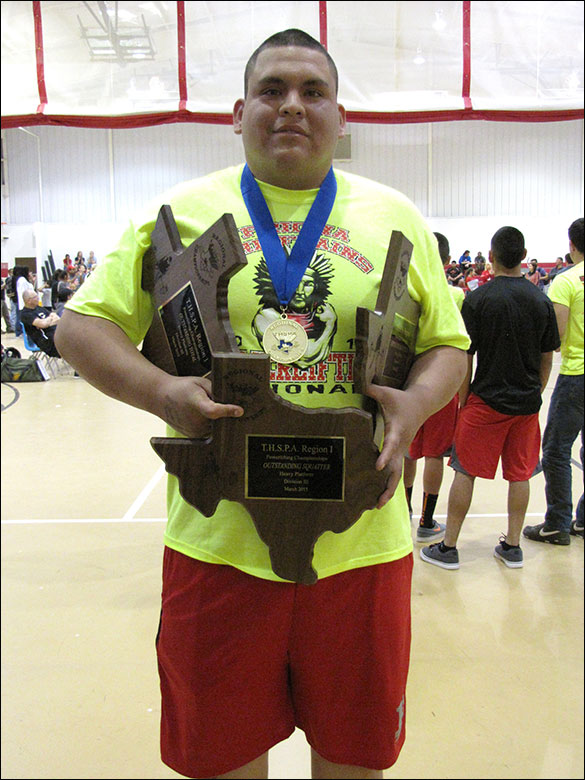 courtesy photo

Chieftain senior Edgar Guerrero set new regional meet powerlift records at Sundown last Saturday and will return to the state powerlifting meet in Abilene Saturday March 28. He competes in the super heavyweight class. He now holds all four possible regional records in the super heavyweight class.

We attended the Bovina Chamber of Commerce banquet last Thursday. It was a very enjoyable evening. The XIT Recreation Center was beautifully decorated with a western theme. The ribeye steak meal was served at the tables by Bovina students. Enjoyed visiting with Mike Beauchamp and Bob Sparks and listening to their stories of growing up in Bovina. Sparks talked about visits to Bovina by the Gatlin brothers in the early 70s. The Gatlins were related to the Carson family.
The Bovina cooking crew cooks the steaks then wraps each one in foil to keep the juice in. That is the way they have always done it. Larry Mitchell warned everybody to be careful unwrapping the steaks to avoid spilling the juice in your lap. I had that experience back in about 1996 at a Bovina sports banquet. Didn't know to be careful and got a lap full of steak juice on my khakis. Some things never change. Thanks to the Bovina folks for a nice evening. (more...)
Hospital announces scholarships
At the regular meeting of the Board of Directors of Parmer Medical Center on Monday, March 9, 2015, the decision was made to once again award four $2500 scholarships to high school seniors residing in Parmer County. (more...)
Basketball all-district results have been released.
The District 2-3A Offensive MVP is Cole Stowers. Mason Loflin and Dallin Woods were named to the 1st team all-district. Receiving honorable mention were Brayden Pope, John David Haile, Jacob Dickson, Josh Barnett, and Kaegan Kerby.
The Chieftain powerlifting team competed at the Region 1 Division 3 powerlifting championships at Sundown March 14. The Chiefs earned 7th place as a team out of 50 regional teams competing. (more...)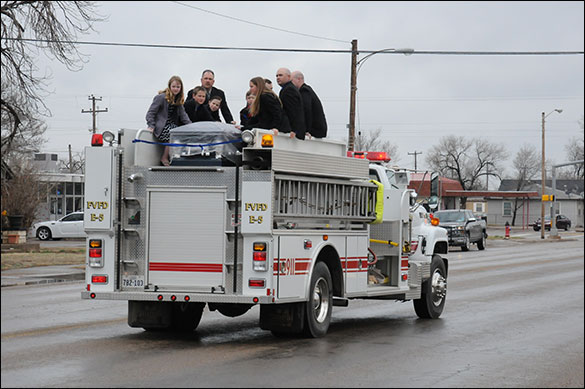 ron carr photo
RIP Mr. Lee Campbell passed away Sunday in Amarillo. He was a Friona firefighter and a member of the fire department for 62 years. Friona firemen escorted the funeral procession Wednesday. Shown riding the fire truck are grandchildren, great-grandchildren and grand-nephews.