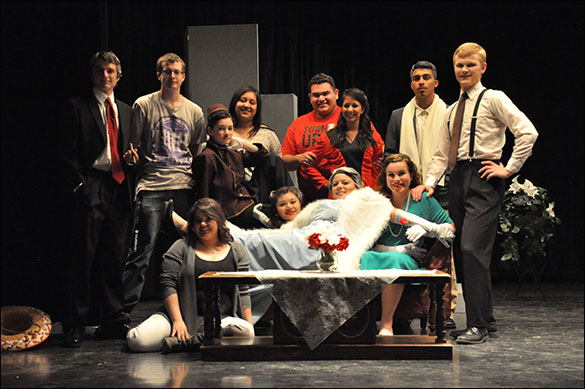 dana jameson photo
Friona High School One Act Play cast and crew of "Lend Me A Tenor" posed for a photo Monday evening before their dress rehearsal. Standing are, l-r, Hadley White, Mason Fleming, Lydia Alexander, Clara Salinas, Lino Tarango, Sierra Mendoza, Blayke Mills and Haden Smiley. Seated are, l-r, Angela Hernandez, Elizabeth Rocha, Jasmine Rodriguez and Brooklynne Johnston. A public performance will be announced at a later date.
By Lois (Smith) Miller
My father, L. A. Smith, came on a train to the Panhandle with his folks from Michigan in 1909. He rode with the horses in one boxcar while the family possessions were in another. I was born April 5, 1915 on a farm 5 miles north of Hereford in the Progressive community. My grandmother Smith acted as midwife.
When I was 5 years old, I began driving a horse and buggy 4 miles to the Askren School. (more...)
The county burn ban will be in effect at midnight Monday March 30 until further notice. We have had some nice weather but it is dry again. Friona firefighters answered a grass fire call about 2:00 p.m. Monday east of town on Hwy 60. County commissioners and Judge Trey Ellis voted to reinstate the burn ban at Monday's meeting. (more...)
Plans are underway for the 3rd Annual Cinco De Mayo Festival in Bovina. A planning meeting will be held Friday, April 3 at 6 p.m. at the XIT Recreation Center. Everyone is welcome to attend. (more...)
Basketball all-district results have been released.
The District 2-3A Offensive MVP is Cole Stowers. Mason Loflin and Dallin Woods were named to the 1st team all-district. Receiving honorable mention were Brayden Pope, John David Haile, Jacob Dickson, Josh Barnett, and Kaegan Kerby.
Hi-Pro 'Feeds the Future' benefit
Hi-Pro Feeds is sponsoring an event to raise money to help feed our local children. The proceeds will fund the SnackPak4Kids in Parmer County. A dinner and auction (Live & Silent) will be held Saturday, April 18 at 6 p.m. at Country Rose located at 507 FM 1057, Summerfield, TX. (more...)