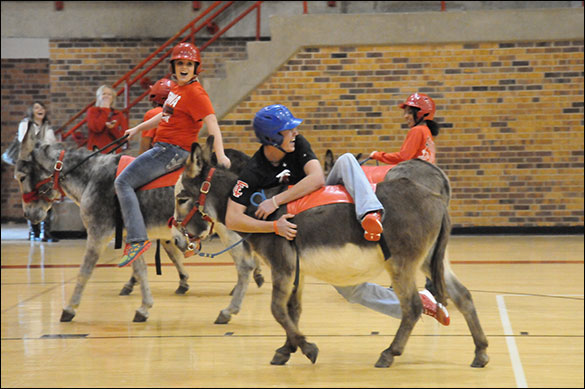 ron carr photo
This was a frequent sight at Sunday's donkey basketball game sponsored by the Friona FFA. Mason Loflin is either trying to get on or off his donkey as Kendall Barnett has a laugh. There was a good crowd in attendance and the students appeared to have a lot of fun entertaining the fans. More photos inside.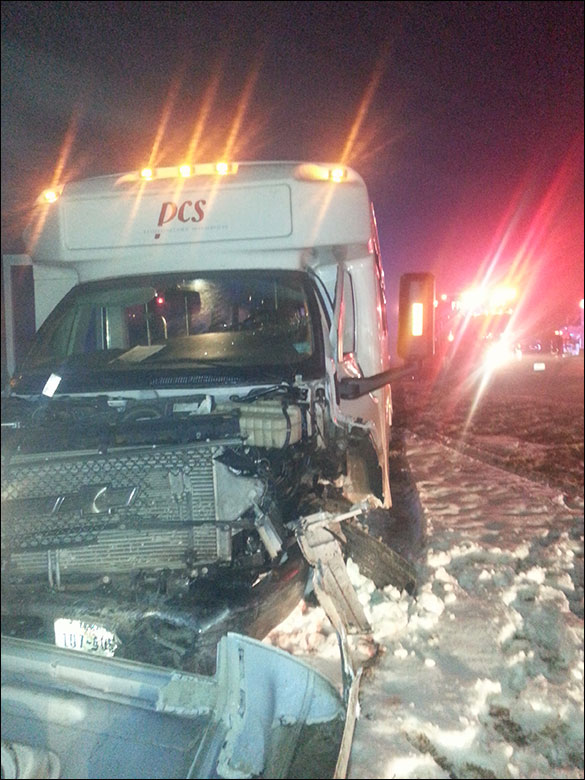 fire department photo

Front end damage to a PCS transport bus as a result of a wreck Monday evening on South Highway 214. The female driver was the only occupant of the bus. She and the driver of the car were transported to Parmer Medical Center with non-life threatening injuries.
What can we say about the weather? Sunny one day, snowy the next. Plays havoc with lots of people's plans, getting to work, doctors' appointments, and shopping trips. More winter stuff forecast for the weekend. Maybe you saw one of our Friona snow photos on Doppler Dave's weather forecast at 6:00 p.m. Monday. Better go fill up your vehicle and stop by the grocery store. (more...)
Murder charges filed in Bovina death
An argument between two men in Bovina Monday night resulted in the stabbing death of Steven Dwayne Hanley, 31, of Bovina. Murder charges will be filed on Marko Garcia, 30, of Bovina who was arrested and remains in the Parmer County Detention Center.
Sheriff Randy Geries said the two men and Hanley's girlfriend were arguing in front of a residence in the 800 block of 4th Street when the stabbing occurred. Hanley was transported by private vehicle to Parmer Medical Center where he was pronounced dead by Precinct 2 Justice of the Peace Sandra Clayton. An autopsy was ordered and performed in Lubbock Tuesday morning. (more...)
Friona EMS and firefighters were dispatched about 9:00 p.m. Monday evening to a two vehicle head-on accident on South Highway 214 between County Roads M and N. A passenger car and a PCS transport bus collided left front to left front. The driver of the passenger car, a Guatemala native, was extricated from his vehicle by Friona firemen using their jaws-of-life tool.
The female driver of the bus suffered a laceration near her left knee and the driver of the car had multiple injuries. Both were transported to Parmer Medical Center. (more...)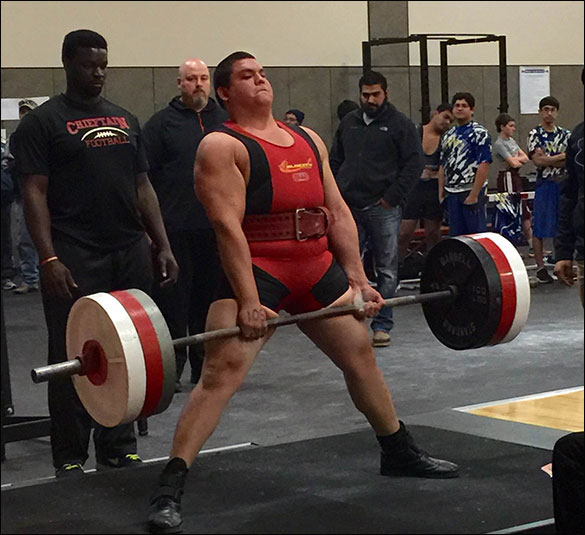 courtesy photo
Chieftain super heavyweight state champion powerlifter Edgar Guerrero at the Friona qualifiers meet. Looking on are Coach Dannon Wafer, left, and Coach Daniel Hutchins. Guerrero had a total lift of 1,785 pounds at the Friona meet and is looking to return to the state meet March 27 in Abilene.