Obituaries
Gwen Graves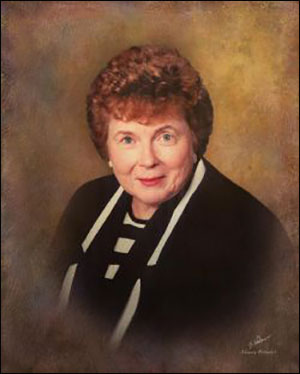 Gwen Graves, 85, of Dumas, passed away on Wednesday, February 25, 2015. Memorial services were held Friday, February 27, 2015 at Morrison Memorial Chapel with Rev. Tom Wylie, pastor of First Presbyterian Church, officiating. Private family interment was in Dumas Cemetery. Services were entrusted to Morrison Funeral Directors.
Gwen was born on May 22, 1929, in Merkel, TX to L.B. and Ida Gertrude (Higgins) McLain. Upon Ida's passing L.B. married Pearl Mickey who raised Gwen from the age of six. On November 20, 1946, she was united in marriage to I.T. Graves in Martin County, TX; he preceded her in death on October 13, 2014.
Gwen loved to read and especially enjoyed playing bridge. She was a member of First United Methodist Church and will be dearly missed by all who knew her.
In addition to her husband I.T., she is preceded in death by her parents; a son, Larry Graves; and a granddaughter, Avry Graves.
Gwen is survived by her sons, Travis Graves and wife Ann of Smithville, TX, and Mark Graves and wife Susan of Dumas; a sister, Patsy McLain of Houston, TX; seven grandchildren and five great-grandchildren.
The family suggest memorial be made to Avry Graves Sunset Memorial Fund, 7925 Mitcham, Amarillo, TX 79121.
Online condolences can be made on www.morrisonfuneraldirectors.com
Clark "Scotty" Scott
Clark "Scotty" Scott died on February 15, 2015 at Providence Memorial Hospital in El Paso, Texas at the age of 65. A memorial service will be held at the Lodge Resort in Cloudcroft, New Mexico on March 14 and at the Renaissance Hotel in Richardson, Texas on March 28.
Clark was born in Denver, Colorado in 1949. He attended the University of Northern Colorado and later Texas Tech University where he earned an M.A. in Math Education. A long-time Math instructor, Clark taught high school math in Colorado, Texas, and New Mexico, teaching at Friona Schools from 1989 to 1997. He was recognized by his students and fellow educators as a passionate, caring teacher. He had a great love of music and sang and played the guitar his entire life. He loved being outdoors in the mountains and enjoyed his final years in Cloudcroft, New Mexico.
Clark was a loving husband, brother, father and a compassionate teacher. He will be dearly missed by his family, friends and students.
He is survived by his wife, Liz Scott of Cloudcroft New, Mexico; his mother, Inge Trelstad; his sister, Ingrid Hillebrand; his three children, Nathan Scott, Mariah Rushing, John Freeman; and four grandchildren, Luke and Josh Scott and Ella and Jack Freeman.
In lieu of flowers, donations to The Clark M. Scott Memorial Scholarship benefiting Friona High School can be made by contacting clarkscottscholarship@gmail.com.