Blackburn, Ingram named Woman, Man of the Year
The Friona Chamber of Commerce and Agriculture celebrated the citizens of Friona on Thursday, March 26 at the 2015 Friona Chamber Banquet.
After a dinner of prime rib, those attending were treated to an inspirational speech given by Brandon Slay, Olympic gold medalist for the United States in Freestyle Wrestling in the 2000 Olympic Games in Sydney, Australia. Slay spoke earlier in the day with a number of youths at First Baptist Church and carried on the theme with the audience. Slay likened Friona Feeding the World with four key themes: time, talent, treasury and testimony.
Employee of the Year. Karen Baker was named the 2015 Employee of the Year award. This year's Employee of the Year was described as a gift to her employer, her family and to the community. On very cold days,
Baker gets up extra early and prepares something for her fellow employees to eat. She sometimes even prepares a warm meal at noon or for breakfast. She is not required to do this; it is something she does because she cares about all the people who work with her. Two years ago, she moved her elderly parents to Friona so she could care for them.
Baker was described as a woman of great character and high integrity. She is the first person you see when you walk into the office at PACO Feedyard.
She is married to John Baker and they have two daughters and seven grandchildren.
Male Student of the Year. Brandon Berend was named Male Student of the Year. Berend is a senior at Friona High School. He has served on the Student Council all four years and is in the Gifted and Talented program. He has maintained a 90 or above average while taking dual credit and challenging courses. He was selected as Student of the Six Weeks and played football all four years.
Berend serves as an officer in FFA and earned his Lone Star Farmer Degree his junior year. He manages to find time to volunteer by cleaning yards and shoveling snow for the elderly, walking for the Parmer County Cancer Coalition, and participating in the Snack Pack 4 Kids program. He has a genuine, caring attitude that spills over into many acts of kindness for others.
He is the son of Roddy and Sandra Berend.
Female Student of the Year. Female Student of the Year is Karina Hernandez. She is a model student and works diligently to be the best. Hernandez is eager to learn new things and will succeed. She is a cheerleader and a member of the National Honor Society. She is also a leader in the Family and Career Community Leaders of America (FCCLA).
She is always respectful and is on a path to graduate with a distinguished diploma from Friona High School. Hernandez volunteers for Little Dresses for Africa, Friona Canned Food Drive, Parmer County Cancer Coalition, Ronald McDonald House, Evelyn Rivers Christmas Project and has served as a Hospice Volunteer.
She is the daughter of Martha Hernandez.
Teacher of the Year. The Teacher of the Year is Tracy Blount. He is described as a great role model, a strong Christian man that has a passion for his career, his students, his community, his school and his family. He goes over and beyond his job description on a daily basis and he handles everything with patience and a kind heart.
Blount makes things happen and is always a few steps ahead. He has made it possible for students to be certified for specific job opportunities after graduating from high school.
Blount and his students sponsored a toy drive for Christmas in 2014, wrapped the toys, and delivered them to specific locations. He and his students entertained the community with a donkey basketball game. He has been teaching for 26 years with four of those in Friona.
He is married to Linda and has two children, Colter and Clayton.
Citizens of the Year. Larry and Sharon Rector were named Citizens of the Year. They have lived their entire lives in Friona. They can both be described as honest, caring, compassionate, hard-working people with character and integrity.
Sharon gives up vacation time to help teach Vacation Bible School every year. She teaches Sunday school and is in the process of becoming a Big Sister in the Big Brothers/Big Sisters program. She had a program last year where she taught basketball basics to kids, all for free and all on her time.
Larry helps with children at his church every week. He has organized lawn mower races, kid's motorcycle poker runs, and is always willing to bring Santa to the park during the Christmas in the Park celebration. He and Sharon give all the kids a fun ride in the Polar Express Train at no charge. Larry commented that he loves to put a smile on a kid's face.
Woman of the Year. Anna Jo Blackburn was named Woman of the Year. Blackburn has served as a volunteer at Prairie Acres since the doors opened 40 years ago. She has worked in visitation, planning social events and as a hairdresser. She has delivered Meals on Wheels for 28 years.
Blackburn is described as one of Friona's most hospitable residents to both young and old and is one of the town's best cooks. She is a longtime fan of Chieftain and Squaw athletics, as well as a strong supporter of school and community events.
Blackburn operated her own business in Friona for over 60 years. She ran a hair salon on Main Street in the 1940's and 1950's and has worked for Avon for over 50 years. As a disciple and servant of Jesus Christ, she has been a faithful and very active member of the 6th Street Church of Christ for 68 years.
She is the mother of Hal Blackburn and grandmother of Jennifer.
Man of the Year. The Man of the Year is Cris Ingram. Ingram supports local kids by buying animals at the Parmer County Livestock Show. He has coached Little Dribblers, taught Sunday school for Pre-K and Kindergarten and supports all school functions no matter what they may be.
He volunteers on various boards and is currently on the Farmers Co-op Gin Board, The FSA Board, the Appraisal Review Board and serves as chairperson of the Friona United Methodist Church Administrative Board. He also served on the church Board of Trustees as a member and chairperson.
He is the chief coordinator and organizer of the biannual county farm sale, a need he recognized as truly beneficial for local farmers.
He has been known to take care of a neighbor's farm when that neighbor was in the hospital. He also may have wrapped your gifts at Christmas if you purchased them at Sylvia Ingram's department store.
He is married to Sylvia and the father of Candice and Colby.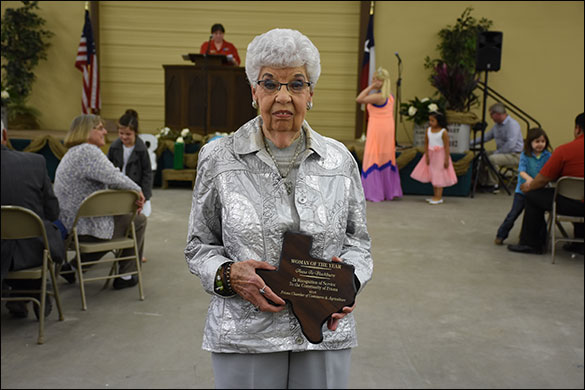 Anna Jo Blackburn • Woman of the Year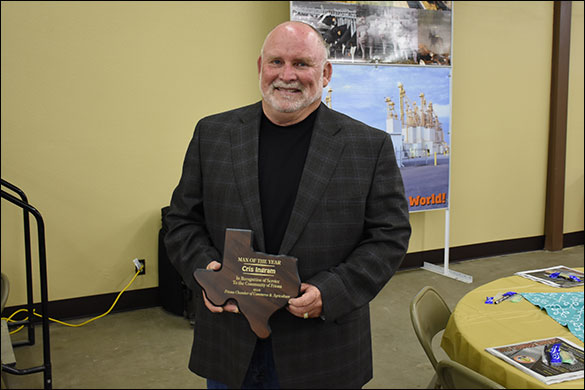 Cris Ingram • Man of the Year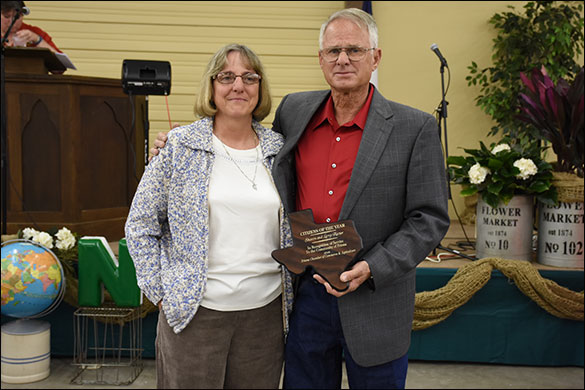 Larry & Sharon Rector • Citizens of the Year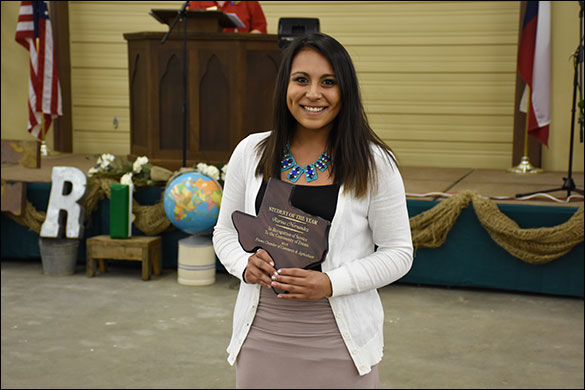 Karina Hernandez • Female Student of the Year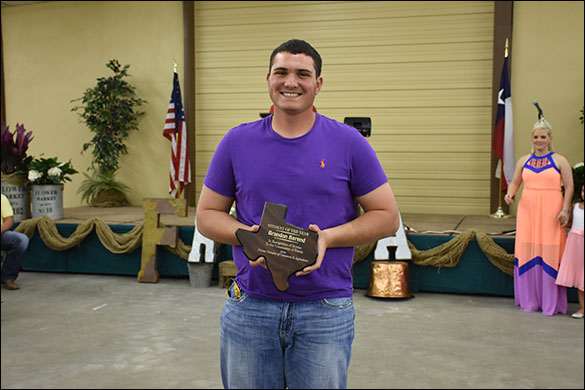 Brandon Berend • Male Student of the Year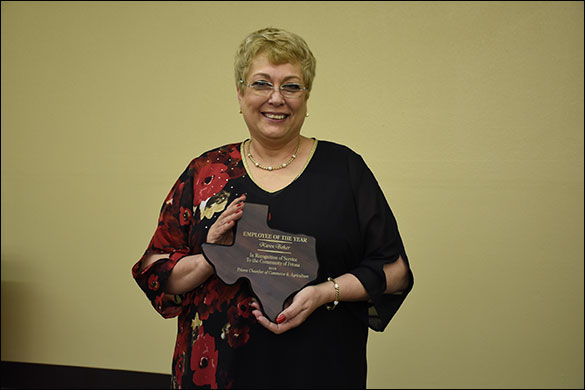 Karen Baker • Employee of the Year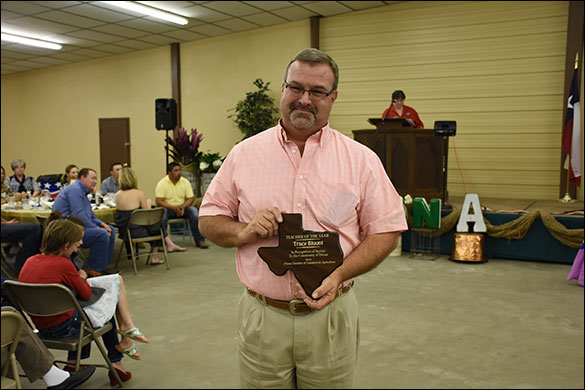 Tracy Blount • Teacher of the Year