Obituaries
Juanita Shannon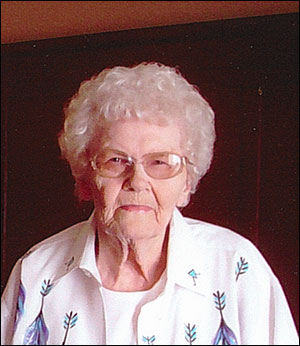 Juanita Shannon, 87, of Farwell, died Sunday April 19, 2015 in Friona. Memorial services have been scheduled for 6:00 p.m. Thursday, April 23, 2015 at the Oklahoma Lane Methodist Church at the Oklahoma Lane Community with Rev. John Westman, pastor, officiating. Arrangements are by Blackwell-Mullins Funeral Home of Friona.
Mrs. Shannon was born October 25, 1927 in Stamford, Texas to Thomas Franklin and Estelle Beatrice Parks Hicks. She married Harlie Shannon February 29, 1944 in Stamford. They later moved to Farwell where she was a resident for 46 years. She was a Medical Nurse for 36 years, and a member of the Oklahoma Lane Methodist Church.
She is preceded in death by her parents, her husband, and by one brother Johnnie Hicks.
Survivors include one daughter, Shala Stewart and husband Don of Farwell; four grandchildren, Ronnie Alexander and wife Betty of Dumas, Patti Waide and husband Phil of Stinnett, Tamera Gadbois and husband Jeff of Dumas and Ricky Alexander and wife Ashley of Farwell; 16 great-grandchildren; and 17 great-great-grandchildren.
Memorials may be made to the Oklahoma Lane Methodist Church, Attn: Bobbie Pierson 1049 C.R. Y Farwell, Texas 79325.
You may sign the online register book at blackwellmullins.com
Henry "Teddy" Fangman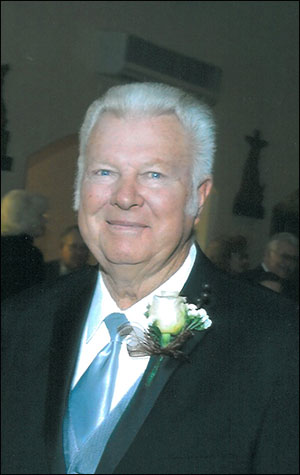 Mass of Christian burial for Teddy Fangman, 78, of Friona will be celebrated at 11:00 a.m. Friday, April 24, 2015 at St. Anthony's Catholic Church in Hereford, with the Reverend Daniel Dreher, pastor of St. Mary's Catholic Church of Umbarger as celebrant. Interment will follow in St. Anthony's Catholic Cemetery in Hereford under the direction of Parkside Chapel Funeral Home of Hereford. The family will receive guests at Parkside Chapel Funeral Home from 4:30 p.m. until 6:00 p.m. on Thursday and a prayer vigil will be held at St. Anthony's Catholic Church at 6:30 p.m. Thursday April 23, 2015.
Henry Theodore Fangman was born September 6, 1936 in Clovis, New Mexico to Walter and Helen Jesko Fangman. He attended schools at Midway, Black and Friona. He was a 1954 graduate of Friona High School. He was president of his Senior Class and Football Team Captain. He met and fell in love with Shirley Schulte and they later married in Hereford at St. Anthony's Catholic Church in 1961.
Teddy had farmed in Friona area and Parmer County for 65 years until his death. He was a very active citizen. He served on the Board of Directors for Friona Independent School District, Friona Co-op Gin, Friona Consumers Board of Directors, Parmer County Appraisal District Board of Directors and the Big T. Pump Company Board of Directors. He was a member of St. Mary's Catholic Church in Umbarger.
Those celebrating his life are one son, Scott Fangman of Friona; two daughters, Lana Bracken of Canyon and Leslie Ham and husband Jason of Vega; three grandchildren, Lexie Bracken, Laura Bracken and Brylee Jesko, all of Canyon; an uncle, Gene Fangman and wife Elsie of Vega; and an aunt, Teresa Paetzold and husband Walter of Hereford.
Teddy was preceded in death by his parents, two brothers, Arnold Fangman and Charles Fangman, and his wife Shirley on September 29, 2009.