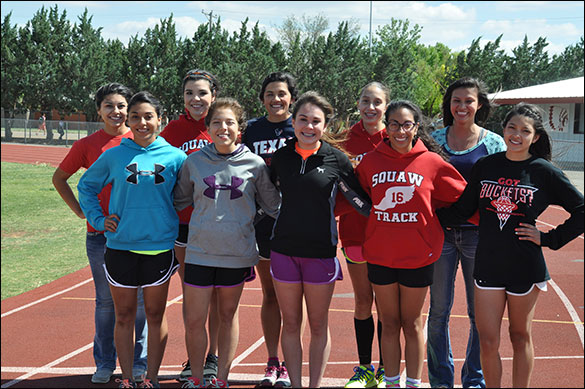 dana jameson photo
The FHS varsity girls track team will be heading to Abilene this weekend to compete at the regional meet. Track team members are, back row, l-r, Raquel Davila, Arianna Moreno, Christina Green, Vivianna Rivera and Nastassia Luna. Front row, l-r, Celeste Flores, Briana Alvarado, Chelsie Gomez, Airam Chavez and Sandra Gonzales. Good luck!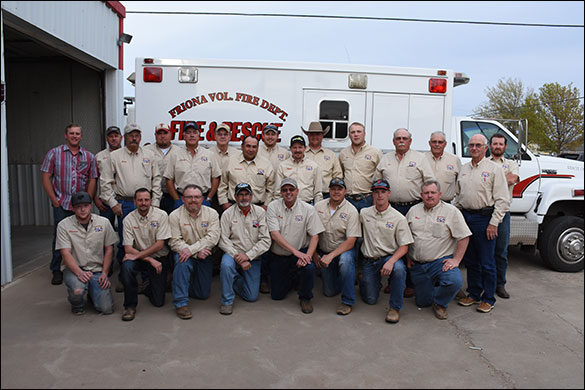 ron carr photo
Long ago when Uncle John White ran the Friona Star he referred to the firemen as Fire Boys. Here are the current Fire Boys, honored with a special appreciation dinner last Thursday at the fire station during Friona Volunteer Firemen Appreciation Week. Back row, l-r, Derick Alger, Chuck Teague, Jerry Lanier, Jason Brawley, Danny Campbell, Dwayne Procter, Salvador Garcia, Chance Lewellen, Bryan Harris, Andrew Stowers, Cole St. Clair, Jim Taylor, John Taylor, Glenn Reeve, Riley Rector; front, l-r, Shannon Reed, Matt Lingle, Jeremy Reed, Terry Sharrock, Heath McElreath, Charlie Pope, Josh Barnett, and Matt Osborn. Thank you for your service to the community.

Official weather guy John Gurley reports Friona received 0.69" of rain Monday and a 1.35" total for the month of April.
*****
Congratulations to Shanna Peeples, a teacher at Palo Duro High School in Amarillo, for being named National Teacher of the Year by the Council of Chief State School Offices. She was also Secondary Teacher of the Year in Texas for the 2014-2015 school year. The best thing about it is she is an English teacher. Yay for English and way to go Mrs. Peeples. She was formally recognized by President Obama at the White House Wednesday of this week. (more...)
A 15-year-old male juvenile out of Castro County led law enforcement on a chase Sunday night that reached speeds of 100 mph. The juvenile burglarized a residence in Dimmitt where he stole a shotgun and a rifle plus ammunition, an ATV, and a Ford F350 pickup. (more...)
All-School Reunion set for September 19
The Friona All-School Reunion is coming up on Saturday, September 19, 2015 at 6 p.m. at the Friona Community Center and the organizers are making plans for the meal. They need ex-students to RSVP and pre-register. Cost of the meal is $15 per person for the 6 p.m. meal. (more...)
You never know what you might find poking around in old buildings and barns even if you are not an 'antique archeologist'. It seems that few of our folks threw out the welcome mat or were ready to be picked when American pickers came to town this month. Yes, they have already come and gone. Too bad, I would really have enjoyed meeting Mike and Frank. I enjoy their show a lot. (more...)