Congratulations to FHS Class of 2015 senior Haden Smiley for being accepted at Harvard University in Cambridge, Massachusetts. The son of Mitchell and Kim Smiley has earned a lucrative scholarship to the university where he will be studying music history and international language. With the Boson area receiving about 7-feet of snow this winter, Mitchell said they would be doing some serious winter clothes shopping before he is off to college.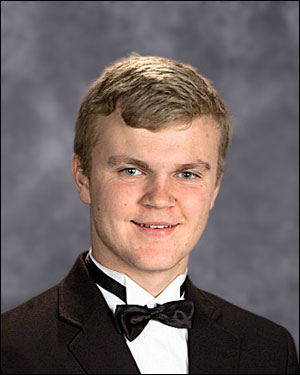 Haden Smiley
*****
Over 6,000 Church of Christ kids were in the Dallas area last weekend for the Leadership Training for Christ (LTC) conference. That doesn't count accompanying adults. Jeff Procter, 6th St. Church of Christ minister, said there were about 5,000 people staying at the Hyatt Reunion Hotel in downtown Dallas. Two other hotels also housed delegates. Four area students plus parents attended the conference.
*****
Received a subscription renewal from Jo Carrol Czeizinger in Dover, Delaware with this note: "I still enjoy the Friona Star. I can keep up with my cousins that live in Friona. Keep up the good work." Thanks Jo Carrol. She is probably our most distant subscriber. Hope she gets the Star delivered within a week or two.
*****
Corbin Neill sent me a note about his mail subscription to the Star. Corbin works for the forest service on a nature preserve and gets his mail in Dryden, Texas. Last week he received four Friona Stars in his box the same day. They were the February 26 through March 19 issues. We have a mail subscription to the Clovis News Journal here and most weeks I receive four or five issues in the same day even though Clovis is about 35 miles away. I've asked why and no one seems to know.
The post office sent us a notice on one of our subscribers in Plano, Texas. It said "Insufficient address, unable to forward." The trouble is we have been sending a paper to that address for years and the lady has not moved. It is a street address in Plano. I checked. She still lives there. I won't be asking the post office what happened because they won't know.
*****
Anniversaries: John and Kathryn Gurley 26 years, Deirdre and Mark Osborn 29 years. Troy and Mona Sharrock 56 years. Congratulations to you all.
*****
Friona graduate Connor Woods is now a photojournalist for Channel 7 in Amarillo. He moved over from Channel 10 and was among the group of employees that showcased the new Channel 7 set Monday evening. He is the son of Coach David Woods.
*****
The 12th annual Fore County Golf Scramble will be held at the John Pitman course in Hereford Friday June 5 with a 1:00 p.m. shotgun start. It is sponsored by West Texas A&M with proceeds used for scholarships. If you have questions or want to sign up call Vicky Buckelew at 806-651-2647. Cost is $280 for a team and $70 individual.
*****
Next week is National Library Week. At last count the Friona Library had 15 baskets for their literary baskets raffle fundraiser. Tickets are $1 each available at the library. You can put tickets in for one basket or put $1 in for each basket. Drawing will be held April 26 at 2:00 p.m. during the annual Friends of the Library annual membership meeting at the Redeemer Center, 1304 Virginia. Skedaddle on by the library and get your name in for the drawing and pay your Friends of the Library dues at the same time. The Summer Reading Program at the library will be June 1 through June 30.
*****
It looks like Bovina will be one of the Panhandle towns on KFDA Channel 10's broadcast in the park schedule this summer. Channel 10 visits five towns in five days and broadcasts their news on-site. They have visited Friona twice. Channel 10 representatives were in Bovina this week planning the celebration.
*****
The FHS All-Sports banquet will be held Monday May 18 at the junior high cafeteria. The Noon Lions Club will cook and furnish French fries for the dinner. The banquet will be in the cafeteria and the awards will follow in the junior high auditorium.
*****
Friona firemen and EMS responded to a call about 5:30 p.m. Monday at the East Allsup's store for a CO2 line leaking. Firemen investigated, shut off the CO2 source and kept doors open to air out the building. EMS treated two employees at the scene. An air quality inspector was called to clear the scene.
*****
The FHS one-act play public performance will be Sunday April 19 at 3:00 p.m. Tickets are $4.00 adult and $2.00 student.
*****
A one-vehicle rollover about 1:00 a.m. Wednesday morning claimed the life of Juan Ramon Gonzalez Velarde, 22, a resident of Bovina. The accident happened on County Road 21 south of Highway 86. He was pronounced dead at the scene by Precinct 1 Justice of the Peace Jo Beth Gipson. He was employed at A-Tex Dairy. Arrangements were pending with Blackwell Mullins Funeral Home. Friona firefighters, EMS, and the Sheriff's Department officers responded.
*****
We will see you folks Sunday at the steak dinner for the Class of 2015 that will be graduating before we know it. We are beginning to work on our Special Graduation issue of the Friona Star to be published May 28. There are about 90 seniors this year. If you want to place a congratulations ad in our graduation paper call us at 250-2211 or come by Monday-Wednesday 9 to 5. Until then!
*****