Obituaries
Norman Taylor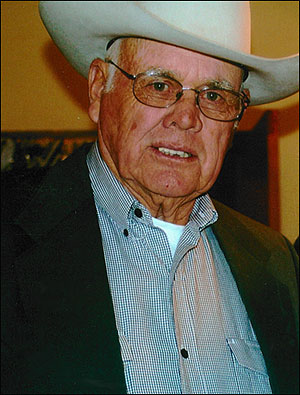 Norman Taylor, 79 of the Rhea Community, passed away May 15, 2015 at his home.
Funeral services were held Monday, May 18, 2015 at the First Baptist Church in Friona with pastor Brett Hoyle and 6th Street Church of Christ pastor Jeff Procter. Burial followed at the Rhea Cemetery under the direction of Blackwell-Mullins Funeral Home of Friona.
T. F. (Boye) and Beatrice Parker Taylor welcomed Norman on November 9, 1935 in Hereford, Texas. Norman attended elementary school in the Rhea Community and finished his education at Bovina. He participated in baseball, football and track, but baseball has always been his favorite sport. His dad, Boye, introduced Norman to baseball and the St. Louis Cardinals, and he remained a lifelong fan of this team. Norman also coached Little League Baseball with his good friend, Jay Potts, and they coached the Rhea Softball Team.
After high school, Norman enlisted in the United States Army where he served as a member of the Army Mule Corps in Colorado. He and his buddies took a road trip on their mules to the Cheyenne, Wyoming Rodeo. Norman and his army buddies have kept in touch throughout the years.
On February 8, 1958, he married Gay Taylor in Bangs, Texas. Since that time he has been a farmer/rancher in the Rhea Community. Norman has served on the ASCS Board and has been a well-respected and beloved member of the community where he has always been willing to go the extra mile to help neighbors and to give advice when asked.
Norman will be missed by a multitude of people: his wife, Gay Taylor of Rhea; his son, Rick Taylor and wife Gail of Norfolk, Nebraska; his daughter, Shannon Malone and husband Mike of Mesquite; two sisters, Janee Jackson of Anton and Barbara Oglesby and husband Carl of Las Vegas, Nevada; his special "grandchild" Sara; his grandchildren, Jordan and Laura; his step-grandson Cody and his son Abraham; a special nephew, Kirk B.; a special niece who has been his rock during his illness; and numerous extended family members, neighbors, and friends.
You may sign the online register book at blackwellmullins.com.
Keith Battey died Sunday, May 17, 2015 in New Braunfels, Texas. A private memorial service will be held in San Antonio for his immediate family.
He was born May 2, 1936 in Clovis, New Mexico to Lloyd and Corda Battey. He married Johnnie Nowell in Hereford, Texas on November 20, 1965.
Keith worked at Cargill for 20 years, and farmed. He enjoyed working on old cars and tractors in his free time. He was a member of the Calvary Baptist Church in Friona, Texas.
He was preceded in death by his wife Johnnie, daughter Julie Hawkins, and his parents.
Keith is survived by his daughter, Kim Lowe and her husband, Wade Lowe of Schertz, Texas; and two grandsons, Keith Lowe, and Kevin Lowe.
Frances Nesbitt Baker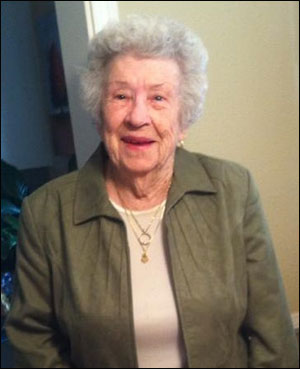 Frances Nesbitt Baker, 99, of Friona Texas, went to be with her Savior on May 17, 2015. Graveside services were held Thursday May 21, 2015 with Wayne Proffitt officiating at the Friona Cemetery in Friona Texas. Arrangements were under the direction of Blackwell-Mullins Funeral Home in Friona Texas.
Frances was born on November 19, 1915 in Caddo Mills, Texas to Richard and Oda Nesbitt. Her parents came from Tennessee and Alabama in the late 1800's and settled around Royse City, Texas. After their marriage they moved to Caddo Mills, Texas where Frances, her three sisters and two brothers were raised. She graduated from Caddo Mills High School in 1934.
In 1935, Frances met John Gibson Baker (J.G.) and they married on September 4, 1937 in Josephine, Texas. They lived in Josephine, Texas where they raised their daughters Monty and Donna and a son John while farming. In 1952, they moved to Friona Texas.
Frances was a homemaker while helping J.G. with their custom harvesting business. Throughout those years they enjoyed a life of traveling for work and pleasure visiting all the United States and several foreign countries.
She loved working outdoors and would often be seen out working in her yard. Quite moments were spent reading and doing creative things with her hands.
She and Gib often did projects together making things. Her children remember fondly all the handmade toys and other things made by their parents.
She was a member of the Calvary Baptist Church of Friona Texas.
She is preceded in death by her husband J.G. Baker, a son-in-law Edward Allen, two sisters and two brothers.
She is survived by daughters Monty Allen, of Lubbock Texas, and Donna Baker, of Friona Texas; one son, John Baker, and wife Karen of Friona Texas; one sister, Rubye Andrea, of Denver Colorado. She has four grandchildren, nine great grandchildren and one great-great-grandchild.
Memorials can be made to the Parmer Medical Center, 1307 Cleveland Ave, Friona, Texas 79035; and Friona Public Library, 109 West 7th Street, Friona, Texas.
You may sign the online register book at www.blackwellmullins.com.