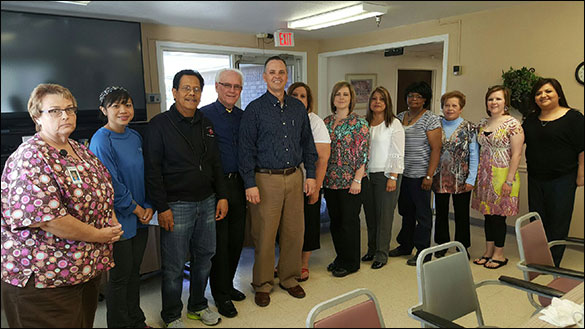 courtesy photo
Dr. Jeff Dickson and family will be moving to College Station this summer. In addition to his duties at Parmer Medical Center and the Friona Rural Health Clinic he has been the Prairie Acres medical director the past three years. Recently the supervisors at Prairie Acres honored Dr. Dickson with a breakfast and a plaque for his service to the nursing home. From left are Patti Widner, Lynnette Jubay, Dr. Felipe Jubay, Billy Ray Johnston, Dr. Dickson, Dawn Campos, Tricia Rocha, Elizabeth Romero, Carol Jackson, Carol McIntosh, Kathy Anthony, and Eve Castillo.
If you prayed for rain, good job. The area has received over 6-inches of rain in May. This past weekend several area roads were temporarily closed due to flooding. Still too wet to plant cotton. Rain is always good except the devastating floods in southern Texas that washed away many homes and resulted in several deaths. Area lakes are rising and so are our attitudes.
*****
On August 15 Social Security will celebrate its 80th anniversary. I guess we should say happy anniversary to them.
*****
Don't forget the free healthy bones seminar beginning Monday June 8 at PMC taught by Patty Haile, PT, DPT. It is a four week program and will be beneficial for people with osteopenia and osteoporosis. Call 806-250-2754 ext 146 to enroll or for more information. Class size is limited. First come first served. Tell Patty I said hello. (more...)