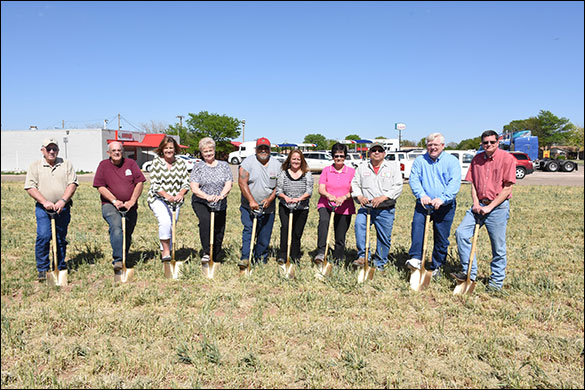 ron carr photo
Friona Texas Federal Credit Union board and credit committee members and officials gathered Thursday April 30 for the official groundbreaking of a new credit union building. The location is adjacent to the AgTexas building on Austin St. Board Chairman Bruce Fleming said construction will begin immediately. The present credit union building will eventually house the Friona Police Department. From the left are Bud Rainey, Randy Dickson, Sandra Berend, Randie Hamilton, Richard Samarron, Credit Union president Nancy Davis, Judy Potts, Joe Santellana, Robert Osborn, and Board Chairman Bruce Fleming.The FHS varsity girls track team will be heading to Abilene this weekend to compete at the regional meet. Track team members are, back row, l-r, Raquel Davila, Arianna Moreno, Christina Green, Vivianna Rivera and Nastassia Luna. Front row, l-r, Celeste Flores, Briana Alvarado, Chelsie Gomez, Airam Chavez and Sandra Gonzales. Good luck!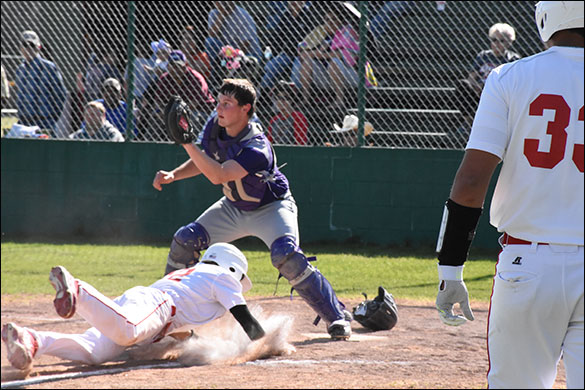 ron carr photo
Chieftain Mason Mireles (22) slides safely into home plate for another run as the Chiefs beat Dimmitt 18-7 in the final district game. The Dimmitt catcher is Jayden Venhaus, grandson of former Friona residents Greg and Mary Lou Venhaus. The Chiefs qualified for the playoffs with a 4-4 district record. They will play River Road in a best 2 of 3 bi-district series with the first game here Friday May 8 at 5:00 p.m. The second game will be at 12 noon at River Road Saturday followed by game three if necessary.


Monday and Tuesday we had what could be described as heavy downpours but no hail included. Official weather guy John Gurley reports 2.83" total. Sunday night .33", Monday 2.12", and Tuesday .38". Lots of rain, up to 11" down south at Lubbock, Seagraves, Post, etc. Big rains caused some flooding in Clovis too.
*****
Well so far this week is Teacher Appreciation Week, National Small Business Week, National Hospital Week, and National Corrections Officers Week. So thanks to all of our teachers (listed in the ad in this week's Star), thanks to all of our corrections officers at the Parmer Detention Center in Farwell (otherwise known as the county jail), and thanks to our local small businesses that keep our town humming along. We say thanks and are thankful for our top notch Parmer Medical Center hospital. What a great facility for our little town.
*****
The Friona Texas Federal Credit Union held a groundbreaking ceremony last Thursday at the location of their new building adjacent to AgTexas on Austin Street. Construction is set to begin immediately. The present credit union building will eventually be the Friona police department. (more...)