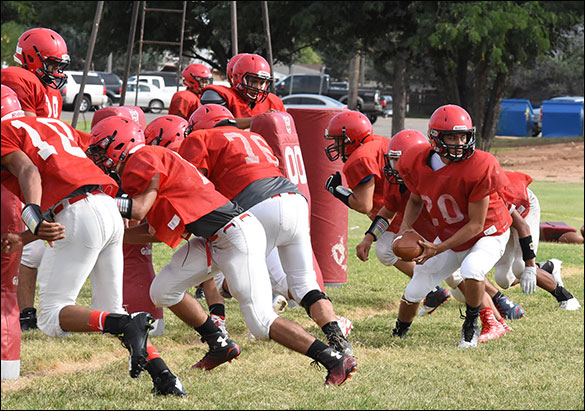 ron carr photo
Chieftain quarterback Chris Alvarez (20) directs the offense during Monday practice. The Chiefs open the season Friday August 28 at home vs. Olton.

As of this week about 250 people have registered for the all-school reunion to be held September 19 during Maize Days. They have extended the deadline to register to September 10. Send your $15 to register to Marca Herring, Friona Interbank, PO Box 549, Friona 79035. Put your graduation year on your check. There is a Facebook page, Friona Ex Students & Teachers for more info. (more...)
Friona Flashbacks
News from the week of Thursday, August 18,1969
*Things keep popping all over the place. In the very near future construction will begin on the swimming pool just east of town and on the addition to the hospital. Included in the addition to the hospital are facilities for another doctor.
*The following building permits were issued at the City Hall in Friona during the week of August 16: (more...)