Obituaries
Cecil F. Bunch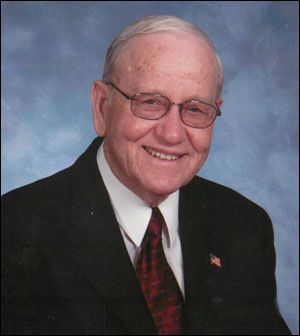 Cecil F. Bunch, 92, of Clovis, NM, passed away January 13, 2016 surrounded by family and friends. Services were held Monday, January 18, 2016 at West 21st Street Church of Christ in Clovis with Ken Cable and Ron Johnson officiating.
Cecil was born in Lindsay, OK at home on December 19, 1923 to Elihugh "Buck" Bunch and Ora Lee Bunch. He was raised in Lindsay and attended and graduated from Hughes High School. Cecil served in the US Navy Seebees from July 19, 1945 and served one year and 12 days in the South Pacific. He married Jo Jester on November 4, 1946 in Clovis, NM. He worked as a salesman for Hooper's Welding Supply in Oklahoma City, then transferred to Lawton, OK. After several years, Cecil decided to become a Church of Christ minister.
He started his ministry career at Tuttle, OK, then ministered to congregations in Dennison, TX at Morton Street, Honey Grove, Texas, then back to Dennison at Armstrong Church of Christ. While at Armstrong Church of Christ, the elders sponsored Cecil to attend Sunset School of Preaching in Lubbock, TX where he completed a Ministry Degree in 1969. He went on to serve the churches at Crockett, TX, Bovina, TX, Sherman, TX and West 21st Street Church of Christ where Cecil served as a minister and elder for 36 years.
Cecil was preceded in death by his parents, seven brothers and his son, Jerry Lee Bunch.
Cecil is survived by his wife, Jo; son, Ronnie and wife Danett; one brother, Luis and wife Doris Bunch; one sister, Bonnie Holder; grandson, Jamie Williams and wife Laura; granddaughter, Heather Walraven and husband Mark; great-grandchildren, Samantha Williams, Nicholas Williams, C.J. Cardwell, Gunnar Walraven and Ian Walraven; two sister-in-law's, June Ellison and Imogene Bunch; numerous nieces and nephews; and his West 21st Street Church of Christ family.
The family wishes to extend their sincere thanks to: Dr. Stalker and Dr. Nuthakki, staff of Retirement Ranch and personal caregivers Betty Kangas and Sally Romero.
The family would like to request that in lieu of flowers, memorials be made to West 21st Street Church of Christ, Clovis, New Mexico in honor of Cecil Bunch.
Arrangements were under the personal care of the professionals at Steed-Todd Funeral Home and Crematory, 800 E Manana Blvd, Clovis, New Mexico (575) 763-5541.
Dorothy Blankenship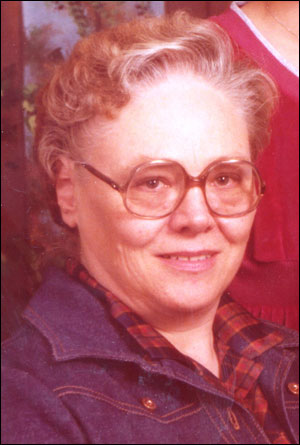 Dorothy Blankenship, 86, passed away January 13, 2016 in Amarillo, Texas. Funeral Mass was held Saturday, January 16, 2016 at St. Thomas The Apostle Catholic Church with Father John Valdez officiating. Arrangements were under the direction of Griggs Schooler Gordon Funeral Directors, 5400 Bell, Amarillo. Burial will be held at a later date.
Dorothy was born April 4, 1929, in Hereford, to Ben Koelzer and Elizabeth Jesko Koelzer. She graduated from Lazbuddie High School in 1948 and then attended St. Anthony's School of Nursing where she graduated in 1952. She married J.C. Blankenship in 1955. He died in 1980. Dorothy was a registered nurse for almost 50 years, living her passion of caring for others in need. In her retirement years, she enjoyed quilting, sewing and spending time with family and friends.
Dorothy was preceded in death by her parents, her husband, J.C. Blankenship, brothers, B.J., Dan, and Jerry Koelzer, and a granddaughter, Brandi Magee .
Dorothy is survived by a son, Mark Blankenship of Lubbock; two daughters, Jennifer Carol Gonzales of Friona and Amy Elizabeth Blankenship of Amarillo; two brothers, David Koelzer of Garden City, Kansas and James Koelzer of Dalhart; two sisters, Evelyn Blankenship of Hereford and Judy Koelzer of Hub; and eight grandchildren.
Please leave online condolences at griggsschoolergordon.com.
John William Renner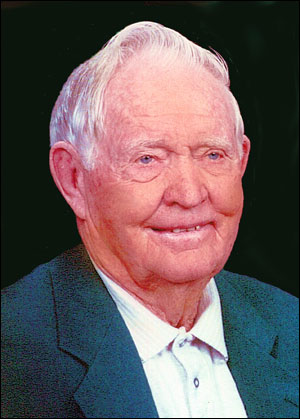 John William Renner, 93, of Friona, died January 15, 2016 in Friona. Memorial services have been scheduled for 1:00 p.m. Saturday, January 23, 2016 at the 6th Street Church of Christ in Friona with Jeff Procter, minister, officiating. Arrangements are under the direction of Blackwell-Mullins Funeral Home of Friona.
John was born November 1, 1922 in Shattuck, Oklahoma to Rudolph and Clara Baker Renner. His family moved to Friona in 1926. John graduated from Friona High School in 1940 and joined the U.S. Navy in 1943 serving in World War II. He married Lavon Baize May 15, 1944 in Clovis, New Mexico. After the war, they moved back to Friona and began farming south of Friona where they raised their three children, Gary, Ted and Vickie. An avid golfer, John was a founding member of the Friona Country Club Golf Course. He was also one of the organizers of Little League Baseball in Friona and helped build several ballparks in the community. He was a member of the 6th St. Church of Christ in Friona.
He is preceded in death by his parents, his wife, one son, Ted and two brothers, Lee and R.J.
Survivors include one son, Gary Renner and wife Karen of Friona; one daughter, Vickie Barker and husband John of Sonora; one daughter-in-law, Missy Renner of Luther, Oklahoma; two sisters, Mary Joyce Barnett and husband Doyce and Lillie Mae Baxter and husband Billy Dean of Friona; one brother, Cotton Renner and wife Kay of Winnsboro, Louisiana; two sister-in-laws, Betty Renner of Lubbock and Zena Renner of Winnsboro; nine grandchildren; 17 great-grandchildren; and a host of nieces, nephews and golfing friends.
The family would like to thank the staff of Bluebonnet Home Health and Hospice, Prairie Acres Nursing Home, Dr. Gary Webb, and the nurses and staff of Parmer Medical Center.
Memorials may be sent to: Prairie Acres Nursing Home, 201 East 15th, Friona, Texas 79035 or Bluebonnet Home Health and Hospice, 304 E. 11th, Friona, Texas 79035.
You may sign the online register book at www.blackwellmullins.com

Evin Wilson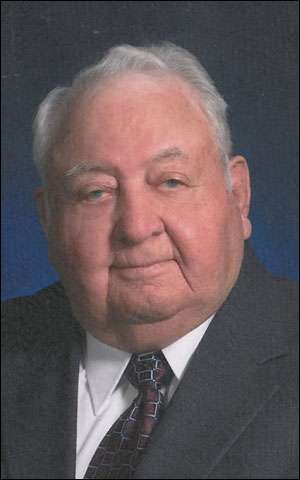 Funeral services for Elvin Wilson, 89, a life-long Hereford resident were held Thursday, January 21, 2016 at Central Church of Christ in Hereford, with John Henley, officiating. Interment followed in Rest Lawn Memorial Park Cemetery under the direction of Parkside Chapel Funeral Home of Hereford. Mr. Wilson passed away Sunday, January 17, 2016 in Hereford.

Thomas Elvin Wilson was born March 23, 1926 to Grady and Maude Johnson Wilson in Hereford. He married Bobbie Robertson on February 27, 1944 in Portales, New Mexico. Mr. Wilson always put God First, family second, then agriculture and community. He was a member of Central Church of Christ.

He is survived by his son Mickey Wilson and wife Shirley of Beeville, TX; two daughters: Darlene Bingham and husband Dean of Kilgore, TX and Diana Wilson of Hereford; one brother: Larry Wilson of Faith, S.D. one sister: Sue Keffler of Sturgis, S.D.; seven grandchildren: Shae (Cole) Manos of Kilgore, Texas, Cody (Karen) Wilson of Atlanta, Georgia, Jared (Melissa) White of Hereford, Brett (Penny) Bingham of Kilgore, Texas, Brady (Heather) Wilson of Canyon, Texas, Shambryn (Matt) Huie of Beeville, Texas, and Tessa (Jake) Bevins of Amarillo, Texas; and nineteen great-grandchildren.

Mr. Wilson was preceded in death by his wife, Bobbie; his parents, Maude and Grady Wilson; two brothers, Junior and Donald; and three sisters, Estelle Hopson, Pauline Block and Gertrude Mallard.

The family suggest memorials in Mr. Wilson's name be made to Hereford Senior Citizens, 426 Ranger St. Hereford, TX 79045 or Central Church of Christ, 148 Sunset Dr. Hereford, Texas.