Friona ISD vehicle stolen, wrecked
About 1:00 a.m. Saturday January 16 Manuel Osorio Lopez, 22, entered the bus barn lot on Grand St., cranked up the school district's newest Suburban and began a damaging joyride. He backed into another Suburban in the lot, ran into the chain link fence, eventually crashing through the gate.
From there police say he must have driven around town for a while before heading west on 6th St. where he ran the stop sign at Grand and crashed into the reinforced steel and concrete barriers that protect the Dale Houlette home. The crash disabled the Suburban with extensive front end damage. The Houlette barriers received minor damage. Police said they were not sure how Lopez managed to get inside the bus barn property since the chain link fence is topped with barbed wire. Alcohol was a factor in the incident.
Lopez, an immigrant from Guatemala, was transported to Parmer hospital by Friona EMS. He had facial injuries since he was not wearing a seat belt and the airbag did not deploy. He was treated and released from PMC then transported to the jail in Farwell.
Friona Police Chief Isidro Jimenez said Lopez would be charged with unauthorized use of a vehicle, criminal trespass, DWI, and criminal mischief. He remains in the jail and is on hold for disposition by immigration officials.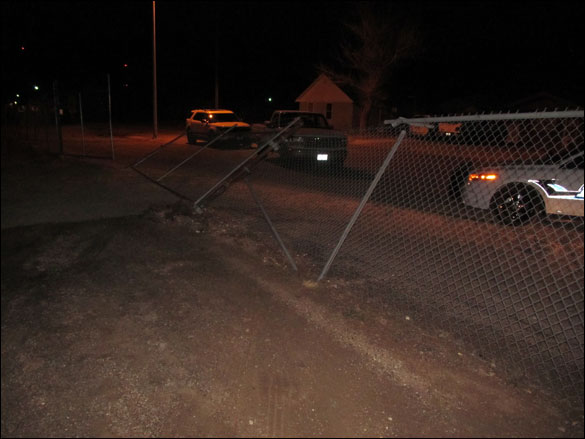 police department photos
Manuel Osorio Lopez, 22, decided to steal a Friona ISD Suburban around 1:00 a.m. Saturday morning to go for a joyride. He damaged the fence at the bus barn, damaged another vehicle on the lot, crashed through the gate, and eventually wrecked the vehicle at 6th St. and Grand. Above, the fence damage at the bus barn lot. Below, extensive front end damage when the Suburban crashed into the barriers at 6th and Grand.