Obituary
Ruby Fletcher Hassenpflug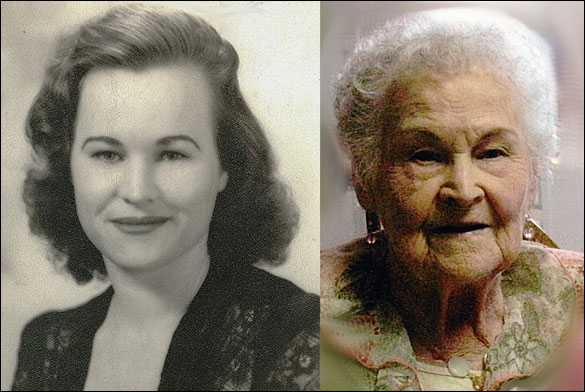 Ruby Fletcher Hassenpflug, 96, of Friona, died Monday October 3, 2016 in Friona. Funeral services were held Wednesday, October 5, 2016 at Calvary Baptist Church in Friona with Pastor Bobby Broughton, officiating. Burial followed in the Friona Cemetery by Blackwell-Mullins Funeral Home of Friona.
Ruby was born in Albertville, Alabama to R.F. and Delpha Herrington Fletcher. She married Melvin Hassenpflug January 21, 1939 in Marietta, Oklahoma. For many years she helped Melvin with his custom harvester business by cooking for the crew and getting parts, as she was raising four children. Later she was a cook for the Friona I.S.D, a member of the Ladies Auxiliary of the V.F.W. and a member of the Calvary Baptist Church. She loved to cook, sew, and spend time with her family.
She is preceded in death by her parents; husband; one daughter, Paula Wilson; one son, Melvin Hassenpflug Jr.; three brothers, Gavin, Raymond and Alvin Fletcher; and two sisters, Paula Hassenpflug and Oleva Haggard.
Survivors include two daughters, Anita Lyons and husband Michael of Hereford, and Tamela Bandy and husband Clay of Friona; one sister, Oleta Pepper of Louisville, Texas; 10 grandchildren; 23 great-grandchildren; and 15 great-great-grandchildren.
Memorials may be made to Prairie Acres Nursing Home 201 East 15th Friona, Texas 79035.
You may sign the online register book at www.blackwellmullins.com