Here are the comments from the Chamber of Commerce banquet for the citizen award winners.
***
Jasmine Rodriquez, Girl Student of the Year
This young lady is a wonderful student and a delight to be around. She is very involved in numerous activities at Friona High School: Choir, One-Act-Play, Band, Speech and Debate, Student Council, National Honor Society, National Spanish Honor society, and National English Honor Society. In band and choir, she has been a state qualifier and earned a medal at state. She is currently ranked #1 in her class and worked to achieve this goal throughout high school. Further, she was selected to attend the national Academy of Future Physicians and Medical Scientists in Washington, D.C. Her mother is Celsa Rodriquez.
***
Josh Barnett, Boy Student of the Year
In his efforts to excel academically, he has maintained a 90 or above average throughout his high school career. He is a National Honor Society and National English Honor Society member. He is unselfish and willing to make life better for others whether they are the elderly or little children…and everyone else in between. His list of volunteer activities include: Big Brothers/Big Sisters, Jr. Counselor at Camp New Dawn, City Church in Amarillo, and Habitat for Humanity and Friona Volunteer Firefighter. His parents are Erin and Ricky Barnett.
***
Most Courteous Employee, Jeff Procter
Has lived in the area for over 25 years. An example of the giving spirit was during the blizzard, shoveling snow, helping get vehicles out of the snow and helping taxi people from point to point. He does so much for the public that is never seen. When asked to do a task it is always done with a smile and good attitude. The employee of the year is known by the coworkers as "memo man" because he delivers memos and a lot of them. He even dressed up as "memo man" for Halloween. There is a genuine interest in how you are doing and how your day is going. We are so thankful wife Monica, Elaina and his church family are so willing to share him with us. He is a gem.
***
Teacher of the Year, Kim Kimbrough
Our teacher of the year is one of our most devoted teachers at Friona Elementary. Our teacher is constantly finding new and innovative strategies to address the needs of each student. There are many overtime hours spent preparing for the students. Our teacher has been involved in the community for 16 years. Volunteers for youth activities at church, help coach various sports and helped with the scouting program. Our teacher of the year is truly a master teacher who is dedicated to her job and her students. She is married to Kody and has two daughters Kendall and Kambree.
***
Man of the Year, Kenny Austin
Our man of the year has been in Friona over 30 years. He has been supportive of the community, parents, students, teachers in so many ways. He will always go the extra mile to make sure everyone was taken care of. Our man of the year has helped support the schools, Chamber of Commerce, Jump Rope for Heart, Parmer County Cancer Coalition and others. He has invested time in CASA. Our man of the year makes education for our children his number one priority. He and our board, with the support of our community, has made strategic, positive decisions that make our school a better place. As a result, our school is a selling point for our community. Whether people meet him in Amarillo or in Austin, they leave with a positive impression of Friona. His wife Lori and daughters Erin and Lacy are very proud of our 2016 Man of the year.
***
Woman of the Year, Kathy Rector
The woman of the year has had her fingers in lots of pies throughout her lifetime. She is well educated and highly thought of in all of her business adventures. She has been on several advisory boards and volunteers in her community whenever and where ever she is needed. She always has a smile on her face and has a very positive outlook on life. On occasion she will help with hair care at Prairie Acres, she volunteers at her church and with many of the community events throughout the year.
It has been noted that her husband has said it is okay to say no on occasion. Her hobbies consist of traveling, skiing, going to the lake and spending as much time with her family as she can squeeze in. Another one of her hobbies in between all the other hobbies is quilting and you guessed it more quilting. All together she is the mother to 8 children, and is Nonni to 11 grandchildren, and 4 great-grandchildren. She is married to her school buddy, best friend and sweet heart Ricky Rector.
***
Citizen/Volunteer of the Year, Friona Volunteer Fire Department
My goodness where do we begin???? The dedication and service to Friona is immeasurable. The amount of time that is devoted to training, learning and helping in any situation. Operational volunteer department members receive some form of training, either in a formal or informal setting, this depends on the state and regulatory authority. The level and type of basic and specialty training varies across the country.
Many volunteer departments have training programs equal to that of paid departments. New members are referred to as "recruits," "rookies," "probies" (short for "probationary"), or even "red hats" in some departments that require the recruit to wear special gear or markings (such as a red helmet in some departments) to denote their ranking. Some departments allow (or even require) new recruits to ride along as observers before undergoing the rigors of further fire training.
Specialty training can include wildland firefighting, technical rescue, swift water rescue, hazardous materials response, vehicle extrication, and others. These volunteers spend MANY hours protecting our community and basically on call 24/7. These individuals are trained and give up the time with family and attend regular training meetings.
I don't know what else to say except let's give the Friona Volunteer Fire Department a round of applause for being our Citizen's and Volunteers of the year.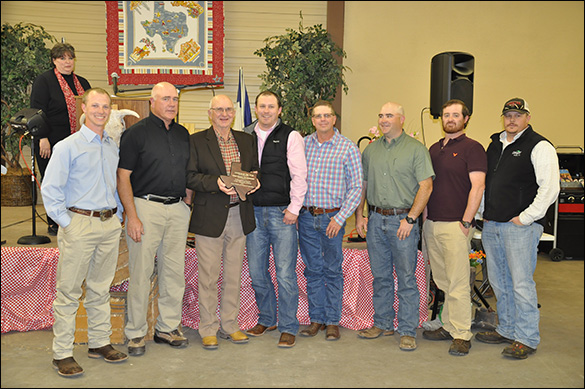 Friona Volunteer Fire Department
Citizens of the Year
From the left Josh Barnett, Danny Campbell, Glenn Reeve, Chance Lewellen, Heath Mc Elreath, Stephen Campbell, Riley Rector, Charlie Pope.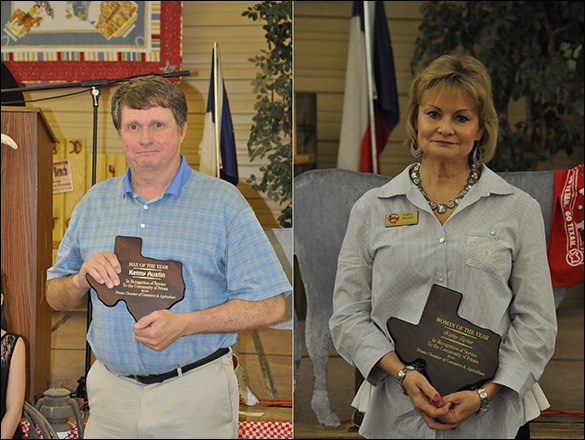 Man & Woman of the Year
Kenny Austin & Kathy Rector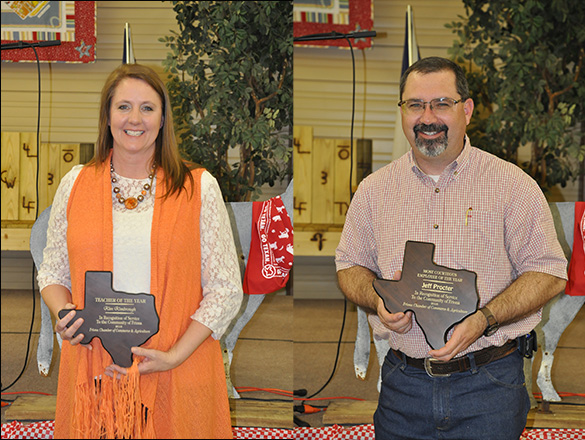 Teacher of the year Kim Kimbrough &
Most Courteous Employee of the year Jeff Procter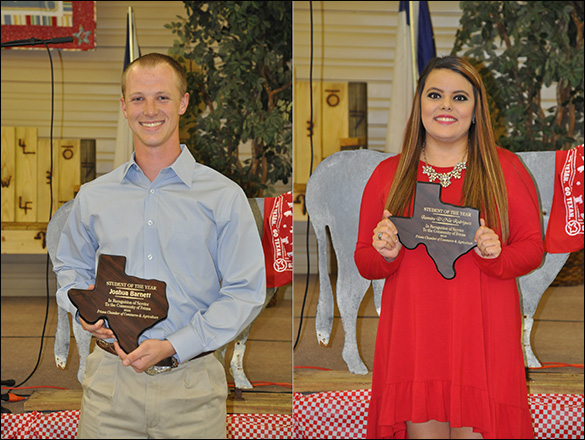 Students of the Year
Josh Barnett & Jasmine Rodriguez