Obituary
Billy Wayne Sisson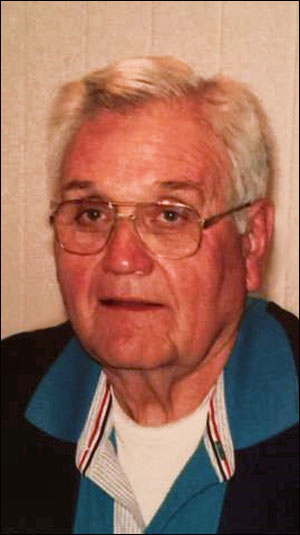 Billy Wayne Sisson, 86, of Hereford, died Saturday, March 5, 2016 in Friona. Funeral services were held Wednesday, March 9, 2016 at First Baptist Church Friona with Rev. Brett Hoyle, Senior Pastor, officiating. Burial was held at the City of Lubbock Cemetery in Lubbock under the direction of Blackwell-Mullins Funeral Home of Friona.
Billy Wayne was born on March 2, 1930 in Tahoka, Texas to H.C. and Lula Mae Altman Sisson. A multi-talented athlete, he played football, basketball, and track from 1949 – 1953 for McMurry University, earning the All Texas Conference second team honors in 1949 and the first team honors in 1951. In 1952, he served as a co-captain and gained second place in the Texas conference. In 1988, Billy Wayne was inducted into McMurry University Athletic Hall of Honor. He earned numerous honors off the football field including serving as the junior class president, Big Chief and senior class favorite of the Physical Education Majors in 1952 – 1953. Billy Wayne graduated from McMurry University in 1953 with a Bachelor of Science degree in physical education and history.
After graduating, he became a manager at the cotton gin in Plainview and later chose to be a farmer and rancher near Hereford. He married DeAun LaNoe Kinkler on December 2, 1950, in Littlefield.
As a Littlefield native he served on the High Plains Underground Water Conservation where he was director, vice president, and secretary treasure.
He was also a former member of the Wheat Growers Association, the Texas Cattle Feeders Association, Pioneer Natural Gas Association and served on the board of Friona Cotton Gin.
Throughout the years his civic activities included the Hereford Lions Club, Golf Association, and coaching both little league baseball and softball. He was a loving, caring husband, father, and grandfather. He never met a stranger and always had a smile on his face. He will be greatly missed by many friends and family.
He is preceded in death by his parents, H.C. Sisson and Lula Mae Altman Sisson.
Survivors include his wife DeAun LaNoe Sisson of Hereford; two daughters, Shalyn S. Clark and husband Al of Arlington, and Shavon Sisson of Amarillo; and grandson Landry Lloyd and wife Kacy of Lubbock.
Memorials may be made to: Cal Farley's Boys Ranch, 600 SW 11th St., Amarillo, Texas 790101-3228 or McMurry University Athletic Department, 1400 Sayles Blvd, Abilene, Texas 79605.
An online guest register book is available: www.blackwellmullins.com