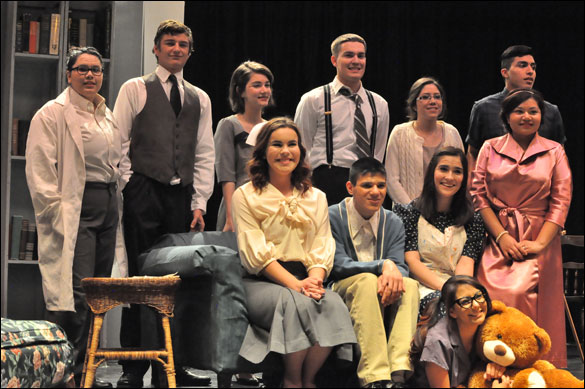 dana jameson photo
The FHS One Act Play Thespian Troupe presented a public performance of "The Curious Savage" on Sunday afternoon. Pictured are the players, back row, l-r, Natalie Avilez, Hadley White, Lydia Alexander, Kaegan Kerby, Esmeralda Barrandey and Blayke Mills; front row, l-r, Brooklynne Johnston, Alex Cigarroa, Hillary Bermea, Elizabeth Rocha and Sierra Mendoza. The thespians performed in District competition at Tulia this week.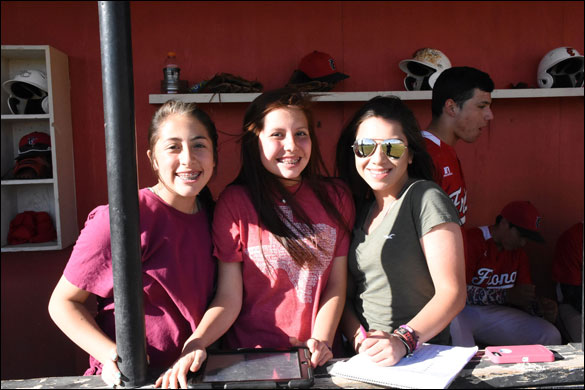 ron carr photo
It takes more than players on the field to make a baseball team. These young ladies, l-r, Ricki Castillo, Natali Godinez, and Nishna Soto are the managers and scorekeepers for the Chieftain baseball team, shown here in action during the Chiefs 16-6 win over San Jacinto Tuesday.

Happy and Holy Easter to everyone. The annual Easter egg hunt in the city park will not be held this year. Calvary Baptist pastor Bobby Broughton is battling cancer and is due to have surgery soon. These complications have caused the church to postpone the Easter egg hunt for this year.
*****
Victory Family Worship Center is holding an Easter Sunday Kids Blast. English service at 10:30 a.m. and Spanish service at 2:00 p.m. Every child gets a free Easter basket full of prizes and a chance to take home a bicycle.
The Bovina Lions Club will sponsor an Easter Egg Hunt Sunday in the Bovina city park at 2:00 p.m. Everyone is invited. Happy Easter everybody. (more...)
Chamber needs info for new directory
The Friona Chamber of Commerce and the FEDC (Friona Economic Development Corporation) are updating the business directory for the Friona area businesses, both large and small. There is no charge for having your information and a photo in the guide.
Business owners are encouraged to take advantage of this opportunity to showcase their businesses. The directory will also include churches, civic organizations, and emergency numbers.
If you are interested in this opportunity, the Chamber needs the following: name of business, services offered, business hours, location, contact information and a picture, if possible.
For more information, contact Chris Alexander at (806) 250-3491.