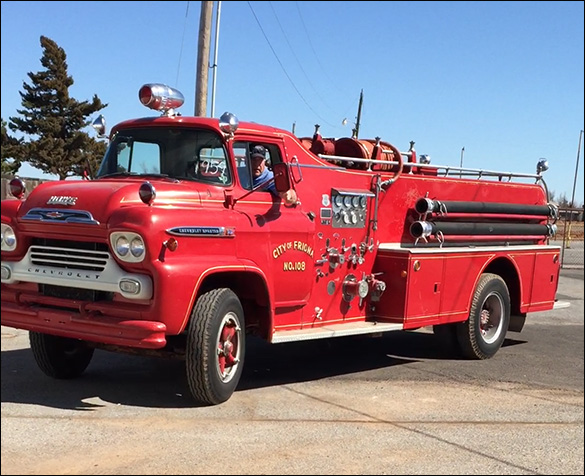 courtesy photos
A 1959 Friona fire truck returned home over the weekend. The firetruck was up for auction in Altus, Oklahoma. It was owned by an individual collector who is deceased and his family was holding an auction. Holly and Danny Campbell attended the auction and after some spirited bidding they bought the firetruck. It has a 5-speed manual shift, a 500 gallon water tank, and lots of memories. It was delivered to the Friona fire department in November, 1959. The Campbells counted at least 13 family members that have been on the Friona Fire Department and three are still currently firemen. Plans are for the firetruck to be on display at the community center for Tuesday's Chamber of Commerce banquet.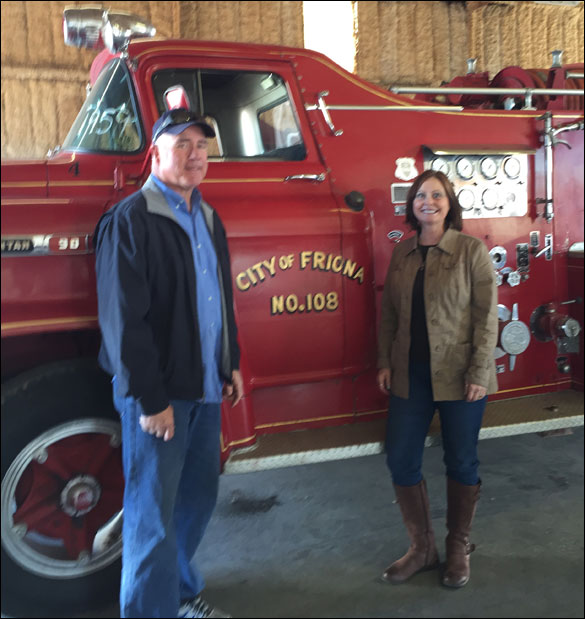 The Chamber of Commerce banquet is Tuesday March 8. I have my ticket and look forward to the auctions, awards, entertainment, and prime rib. Maybe I'll win $50 in Friona Bucks. It will be an enjoyable evening. Hope to see you there. Tickets in advance $25 at the Chamber office.
*****
Former Friona resident Bertha "Mutt" Dutton will be celebrating her 98th birthday March 12, 2016 from 2:00-4:00 p.m. in Clovis at the Prince Street Baptist Church. Her Friona friends are invited to Mutt's birthday party. (more...)
Of the 1,343 ballots cast in the March 1 election, 1,229 were Republican and 114 were Democrat.
Ted Cruz received the most votes at 728, followed by Trump at 218 and Rubio 145. Ben Carson got 89 and John Kasich 24. Several candidates that are no longer running for president received votes: Bush 4, Rand Paul 3, Lindsey Graham 2, Carly Fiorina 1, and Huckabee 5. (more...)