The Chieftain Golf team competed in the Vega Longhorn Invitational at the Oldham County Country Club on Tuesday, March 22, 2016. The chiefs finished in fourth place in the field of 12 teams in a cold and windy test of endurance for all the boys teeing it up on the day.
Senior Joshua Barnett carded a personal best of 90, that was good enough for 5th place as an individual.
Bryce Bunker, Brandon Douglas, Samuel Frye and Seth Murphree combined with Barnett to post a team score of 211.
***
The Friona Chieftain golf team competed at the first round of district at the 2-3A tournament on Monday, March 28. The first round was held at the Dimmitt Country Club and the Chiefs finished the day in 3rd place overall behind Shallowater and Littlefield.
The Mustangs carry a 358 into next week's second round at the Tule Lake Golf Course in Tulia, 13 strokes ahead of the Wildcats' 371 and 36 ahead of the Chiefs 396.
Leading the Chieftains on the day was senior Joshua Barnett who carded a career best 89, followed by Brandon Douglas (93), Seth Murphree (99), Bryce Bunker (113), and Samuel Frye (118).
The second round of district 2-3A competition is Wednesday, April 6, with tee off slated for 9:30 a.m.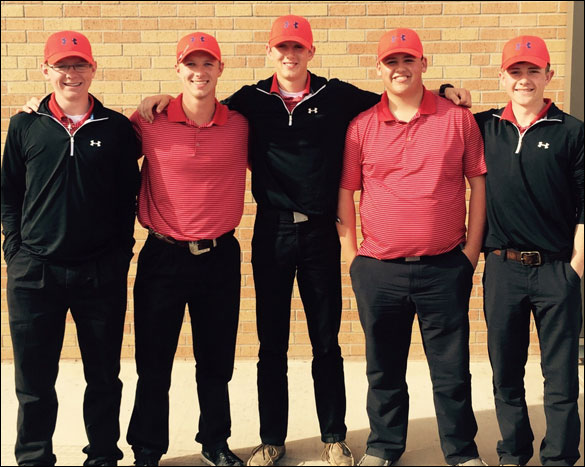 FHS Chieftain Golf Team: Samuel Frye, Joshua Barnett, Seth Murphree, Brandon Douglas, and Bryce Bunker.