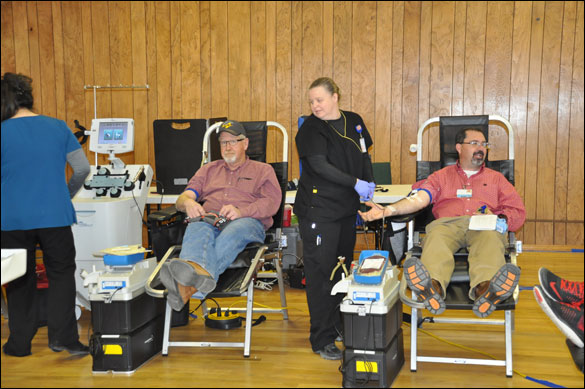 dana jameson photo
Blood donors Danny Hand, left, and Jeff Procter are tended to by Coffee Memorial Blood Center technician Kim Doughty at last Thursday's blood drive. The drive collected 49 units of whole blood. Thanks to the donors and volunteers for giving the gift of life.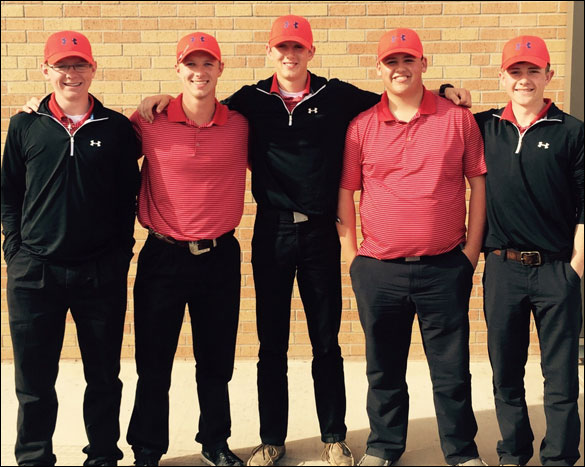 FHS Chieftain Golf Team: Samuel Frye, Joshua Barnett, Seth Murphree, Brandon Douglas, and Bryce Bunker.

Hope everyone had a nice Easter Sunday. The weather was great for all of those Sunday cookouts. I went to Wal Mart Sunday around the noon hour and one frazzled cashier told me it is one of their busiest days of the year.
*****
Kim Smiley had a big smile over Easter weekend. She and Mitchell welcomed their first granddaughter after three grandsons. Blake Nicole Morris was born to parents Blair and Barry Morris. Blair is a first grade teacher in Muleshoe. Congratulations to all of the Smileys. (more...)
The Chieftain Golf team competed in the Vega Longhorn Invitational at the Oldham County Country Club on Tuesday, March 22, 2016. The chiefs finished in fourth place in the field of 12 teams in a cold and windy test of endurance for all the boys teeing it up on the day.
Senior Joshua Barnett carded a personal best of 90, that was good enough for 5th place as an individual.
Bryce Bunker, Brandon Douglas, Samuel Frye and Seth Murphree combined with Barnett to post a team score of 211. (more...)