dana jameson photo
The week of April 10-16 has been designated as Public Safety Telecommunicators Week. The first line of defense at the Friona Police Department are their telecommunicators, l-r, Supervisor Juanita Carrasco, Desiree Rangel, Rebekah White and Assistant Supervisor Jonathan Marquez. Not pictured is Alex Marquez.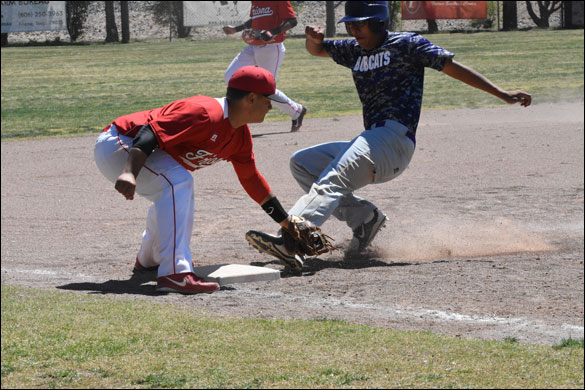 ron carr photo
Chieftain third baseman Guillermo Quintana tags a Dimmitt Bobcat out in Saturday's game here. The Chiefs won 9-1 to improve their district record to 3-1 and second place behind Shallowater. The Saturday game completed the first half of district. Shallowater visits Friona Saturday April 16 to start the second half of district. Game time is 12:00 p.m. Shallowater is currently ranked #2 in the state.

Thanks to the many volunteers that sliced, marinated, cooked, served, and cleaned up for the senior class steak dinner Sunday. As usual a large crowd enjoyed the steak and baked potato menu not to mention the always obscene amount of delicious homemade desserts. Special thanks to all who purchased tickets and came out to eat the steaks. It is always a lot of work so thank you, thank you everybody. (Becky Riethmayer said the first senior class steak dinner was held in 1992.)
*****
Jo Carrol (Wiley) Czeizinger lives in Dover, Delaware, probably our farthest Friona Star subscriber. She sent her renewal this week with a note: "I still enjoy reading the Star. I enjoy reading about my cousin Connie Slagle. I did see my brother's name in the Star, James Wiley. Keep up the good work and God bless you."
Former residents Trell and Harold Taylor, now of Mineral Wells, Texas, sent a renewal. Trell said, "We enjoy the Friona news every week. Harold and I are doing well. Thanks, Trell." We appreciate hearing from our out-of-town readers. (more...)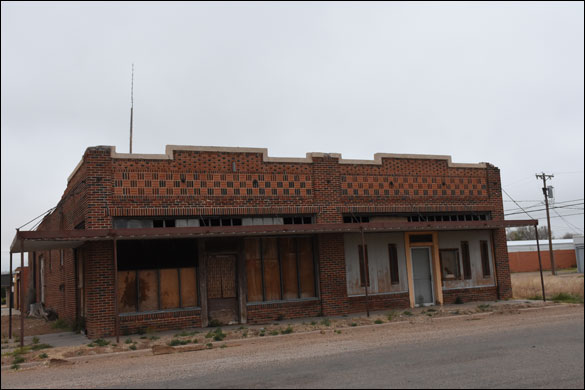 ron carr photo
This old building once served Friona as a movie theater but it has been abandoned and neglected for years. It is owned by Amy Elizabeth Gausin of Venice, Louisiana. The city council authorized the city manager to advise the owner that condemnation procedures to tear down the building will be implemented.