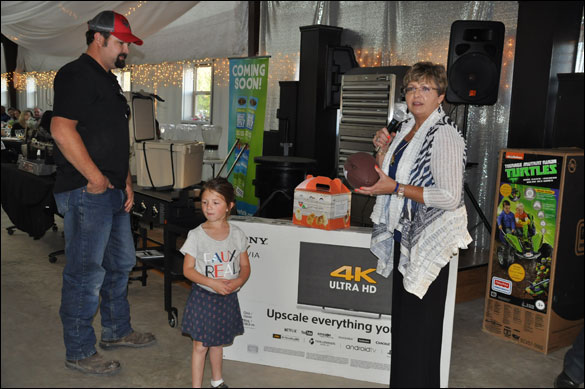 dana jameson photo
John Schueler, left, looks on as Maddie Williamson, center, and Varla Wilcox, right, draw for the lucky winner of a football signed by Dick Vermeil at the 2nd Annual Hi-Pro Feeds the Future benefit for SnackPak4Kids in Parmer County. Clint Hurst was the winner of the drawing.



ron carr photo
Welcome to Friona! The Friona RV Park is almost full. The city opened 10 more spaces recently for a total of 20 spaces. The RV Park will be home to workers on the wind farm project north of town until November or December. We welcome these workers and their families to the community.

Official weather guy John Gurley said we received 0.27" of rain Monday night. At 10-mile corner they received 0.70". Total here in town for April is 0.30".
*****
The senior meals folks have announced they will now have Mexican pile-on two times a month, the first Monday and the third Thursday. All seniors are invited to the meals which are served Monday and Thursday every week. (more...)
SnackPak4Kids benefit raises $74,000
To go to bed hungry and never knowing where your next meal will come from is a horrible thing for a child to deal with. Hi-Pro Feeds, Inc. and Nutra Blend once again joined forces with the Friona and Farwell communities to make a big difference in local childrens lives with the 2nd Annual Hi-Pro Feeds the Future benefit. Due to their efforts, SnackPak4Kids in Parmer County will be able to provide much needed sustenance to children in food-insecure homes. The evening raised over $74,000 in ticket sales, silent auction, live auction, donations and points earned by Hi-Pro and Nutra Blend. (more...)