Obituary
E.G. (Eulynn Gilbert) Phipps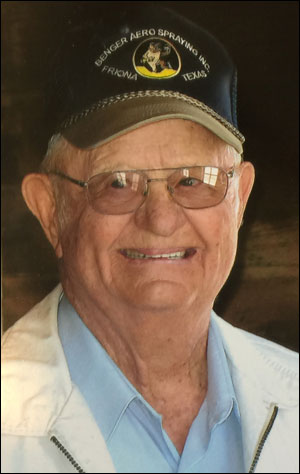 E.G. (Eulynn Gilbert) Phipps, 89, of Friona, passed away on April 12, 2016 in Amarillo. Celebration of Life Services were held Saturday, April 16, 2016, in the Friona United Methodist Church with Rev. Skip Hodges, pastor and Jeff Procter, minister of the Sixth St. Church of Christ, and family, officiating. Burial followed in the Friona Cemetery by Blackwell-Mullins Funeral Home of Friona.
E.G. was born February 3, 1927 in Odell, Texas to Charlie and Dora Mayo Phipps. He married Betty Jo Elliot on July 15, 1945, in Muleshoe, Texas. He was drafted into the Air Force in 1945. After his military service, he and Betty lived in Muleshoe to start their lives together. They moved to Friona in 1950. E.G. loved the land and was involved in farming and ranching in Friona from that time on. He was a Parmer County Commissioner and served on the Friona Independent School District Board. He spent endless hours loving his children, grandchildren, great-grandchildren, family and numerous friends.
He was preceded in death by his wife of 69 years, Betty Phipps; a grandson, Drew Baize; three brothers, Spurgeon Phipps, Mayo Phipps, Virgil Phipps: and two sisters, Mildred Williams and Mary Bandy.
He is survived by six daughters: Shirley Wilson and husband, Mickey, of Beeville, Texas; Judy Phipps, of Amarillo, Texas; Deloris Phipps, of Amarillo, Texas; Patricia Phipps of Friona, Texas, and Myrna Hill and husband, Kelly, of Amarillo, Texas and a foreign exchange daughter Brenda Baxter and husband, Wayne, of Wanganui, New Zealand.
He is also survived by his grandchildren and great-grandchildren: Cody and Karen Wilson, Kyle, Claire, and Carlie of Atlanta, Ga.; Brady and Heather Wilson, Tyler, Tanner, and Trace of Canyon, Texas; Shambryn and Matt Huie, Abby, Riley and Zachary of Beeville Texas; Boone and Amy Hand and Hope of Cave Creek, Arizona; Bowie Hand and Abby Kreitler of Austin, Texas; Morgan and Autumn Baize, Kylee and Cooper of Canyon, Texas: Logan Baize and Marissa Harrison, Brylee and Addaliya of Amarillo, Texas; Miles Hill of Amarillo, Texas; Malory Hill of Fort Lauderdale, Florida; Kellie Schooler and Carver of Lubbock, Texas; and the Baxter grandchildren and greats of New Zealand; four sisters June Collier of Amarillo, Texas; Daisy Beversdorf of Haltom City, Texas; Jane Houlette and husband Dale of Friona, Texas; Geraldine Ferguson and husband Kenneth of Burleson, Texas; brother-in-law, Bill Bandy of Amarillo, Texas and a sister-in-law, Wanda Phipps of Abernathy, Texas, and many nieces and nephews.
In lieu of flowers, donations may be made to the Friona United Methodist Church, 301 East 8th, Friona, TX 79035 or Friona Public Library, 109 W. 7th, Friona, TX 79035.
You may sign the online register book at www.blackwellmullins.com.