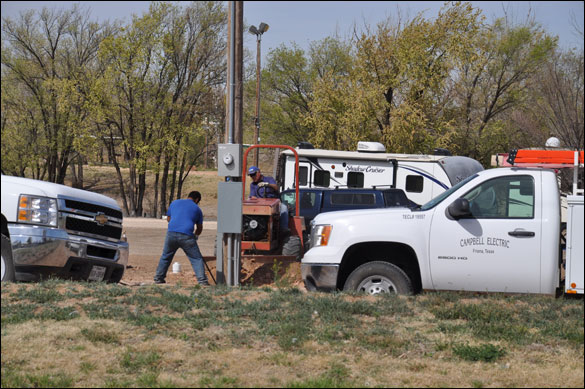 dana jameson photo
Danny Campbell and Serafin Vazquez of Campbell Electric work on installing the electricity for the 10 new RV spaces at the city's RV Park.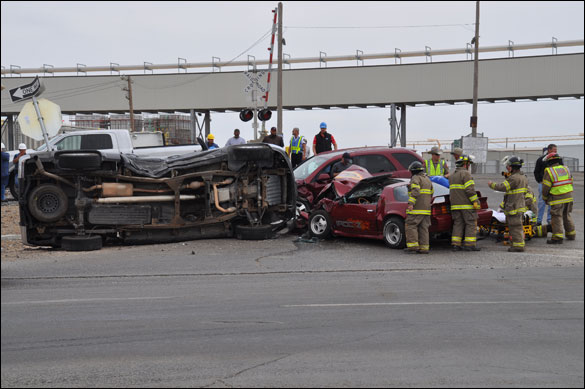 dana jameson photo
A three vehicle accident at the Cargill plant entrance Tuesday about 2:30 p.m. sent the driver of the IROC Z to PMC. He was trapped in the car and Friona firemen extracted him through the passenger door. The car t-boned the pickup which was turning into the plant. The pickup ended up on its side and the SUV was leaving the plant when it was struck by the collision.

Hope everyone had a nice Easter Sunday. The weather was great for all of those Sunday cookouts. I went to Wal Mart Sunday around the noon hour and one frazzled cashier told me it is one of their busiest days of the year.
*****
Kim Smiley had a big smile over Easter weekend. She and Mitchell welcomed their first granddaughter after three grandsons. Blake Nicole Morris was born to parents Blair and Barry Morris. Blair is a first grade teacher in Muleshoe. Congratulations to all of the Smileys. (more...)
Council to decide closure of alley and street
The Friona city council will meet in regular session Monday April 11 at 6:30 p.m. in council chambers, 619 Main Street. All council meetings are open to the public.
The mayor will open the meeting with the reading of a Volunteer Firemen Appreciation proclamation. (more...)