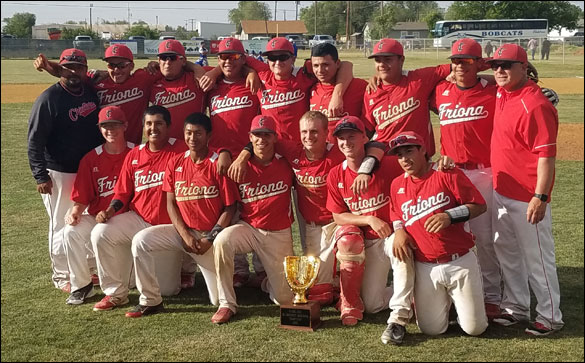 courtesy photo
The Friona Chieftain baseball team made school history over the weekend. For the first time in school history a Chieftain baseball team won a playoff game, defeating Childress in a 2 out of 3 series to claim the bi-district Golden Glove for the school trophy case. Team members are, back row, l-r, Coach Jesus Quiroz, Luis Vasquez, Tristan Castillo, Ivan Duran, Logan Loflin, Damar Sermeno, Guillermo Quintana, Isaac Duran, Coach David Woods: front row, l-r, Samuel Frye, Aaron Rocha, Daniel Pena, Mason Mireles, Dallin Woods, Josh Barnett, Matthew Morales. The Chiefs advance to the area round and will play the Alpine Bucks Thursday and Saturday in Andrews. First game is 6:00 p.m. Thursday. Second game is 3:00 p.m. Saturday followed by game three if necessary.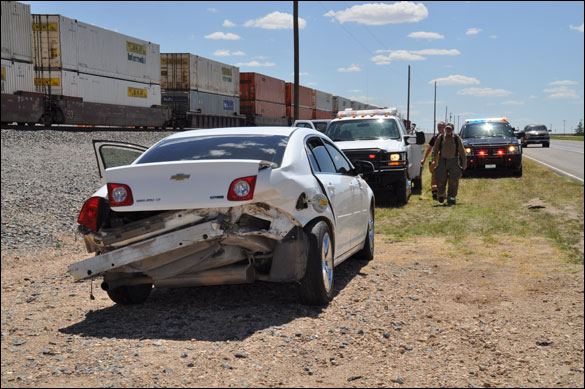 dana jameson photos
Another accident at Cargill. The Chevy Malibu, top, was entering the plant Tuesday afternoon about 2:45 p.m. when it pulled onto Hwy. 60 and collided with an east bound Mustang, below, that ended up in the median. Friona EMS, Friona firefighters, Friona police, and DPS Troopers responded. There were no serious injuries.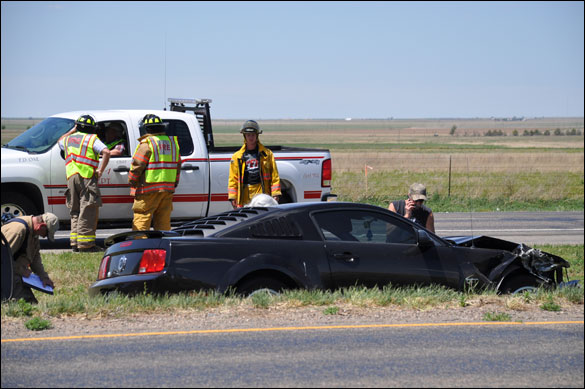 Kudos to Kendrick Oil Co. for saving Friona taxpayers money. Work has started on a portion of Virginia Street to concrete about 140" south from Highway 60. The paving by Kendrick will stop the wear and tear caused by trucks accessing the Kendrick Truck Wash. Repaving that strip of Virginia would have cost the city about $250,000 according to city manager Patricia Phipps. Kendrick Oil is estimated to spend about $150,000 to fix the street and it will be returned to the city once work is complete. (more...)
Former Friona EMS staff member Jennifer Gonzales has been indicted by the Parmer County grand jury for "embezzling" drugs through the EMS for personal use. Gonzales was in charge of ordering drugs to restock the ambulance. According to the city and Sheriff Randy Geries she would order drugs, approve the invoice for payment by the city, then steal the drugs for personal use. (more...)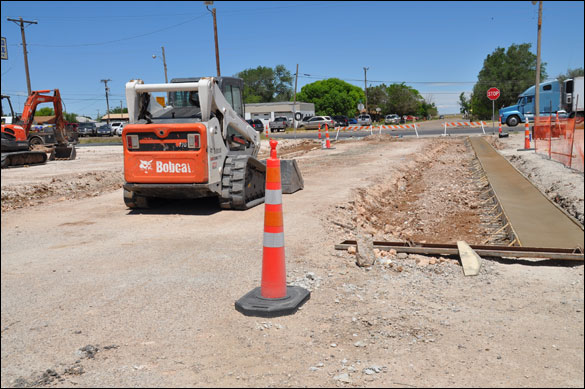 dana jameson photo
Virginia Street is closed at Highway 60 as work has begun by Kendrick Oil Co. on repaving a section of the street with concrete for trucks accessing the Kendrick Truck Wash property. Trucks park on the west side of Virginia then cross Virginia into the truck wash. The truck traffic had torn up Virginia and Kendrick Oil struck an agreement with the city to repave about 140" of Virginia with concrete to avoid future wear and tear to the street.