Obituaries
Sayge Caroline Massie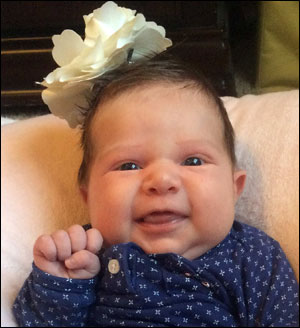 Sayge Caroline Massie was born March 24, 2016 to parents Shawn & Jena Massie. Sayge's family was blessed with seven perfect weeks with Sayge before she went to her heavenly home on May 13. Sayge experienced countless hugs, snuggles and kisses from her Mommy and Daddy and big sisters. She drifted to sleep to songs sung by her loving parents and had her picture taken an infinite number of times by her mommy's iPhone.
Sayge is deeply loved by her mommy and daddy, her big sisters Gracelyn and Alise, her grandparents, her great-grandparents, her aunts and uncles, her cousins, and countless family friends. Sayge will always remain her parents' beautiful little wildflower and they will snuggle her again in heaven one day.
She is survived by her parents Shawn and Jena Massie of Lubbock and her sisters Gracelyn and Alise; maternal grandparents Jayson and Jyl Grimsley of Friona; paternal grandparents Terry and Pati Massie of Lubbock; great-grandparents; J.K. and Joleta Edinburgh; David and Uldene Grimsley; William and Kathryn Gromowsky; aunts and uncles; Jacy and Landon Weatherly; Justin and Julie Grimsley; Shad and Laura Massie; Shaye Woolard; and many cousins and family.
Funeral services will be at 2 pm on Friday, May 20, at Broadway Church of Christ in Lubbock under the care of Adams Funeral Home of Ralls. A visitation time is scheduled at the church from 10:30 till noon prior to the service. For online condolences see www.adamsfuneral.com.
In lieu of flowers, the family requests a donation in Sayge's memory to the Muscular Dystrophy Association at 222 S. Riverside Plaza, Suite 1500, Chicago, Illinois 60606 or please kindly consider purchasing a doll from cuddleandkind.com., where the purchase of each doll provides meals to children in need.
Kenneth S. Moore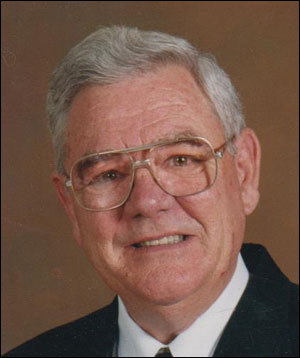 Kenneth S. Moore, 86, of Amarillo died on Monday, May 16, 2016. Funeral service will be held at 10:00 a.m., Friday, May 20, 2016 in San Jacinto Church of Christ with Dale Dennis and Glen Walton, officiating. Burial will follow at Llano Cemetery East. Arrangements are by LaGrone Blackburn Shaw Funeral Directors, Coulter Road Chapel, 8310 S. Coulter Street.
Kenneth was born January 3, 1930 to Roy and Viola (Baker) Moore. He married Lawanda Moran May 29, 1950 in Vernon, TX. Four children were born to this union.
Kenneth was a dedicated member of the church of Christ and served as an elder in Olton, Friona, and most recently San Jacinto in Amarillo. He served as a minister at the church of Christ in Eagles Nest, NM for 11 years.
Most of Kenneth's life was spent in the grocery business. He began his grocery career with his parents and brother in Chillicothe, TX. He and his family moved to the plains of Texas in 1963. He owned and operated Piggly Wiggly in Friona for many years, later branching out in other locations.
Kenneth loved the Lord, his wife, and family. He will be dearly missed by all of those who knew him.
Survivors include his wife Lawanda of the home; daughter, Gwyn Hanes and husband Steven of Miami, OK; son, Bobby Moore and wife Claudia of Garden City, KS; daughter, Kenna Zetzsche and husband Bobby of Lubbock, TX; son, Bret Moore and wife Lisa of Stratford, TX; 13 grandchildren, Denea, Kyle, Shae, Kade, Cason, Kendy, Tierney, Kara, Brittany, Lindy, Katy, Dylan, and Anthony; and 14 great-grandchildren. Also surviving Kenneth is a brother, Roy Keith Moore and wife Betty of Paducah, TX.
Billy Don Read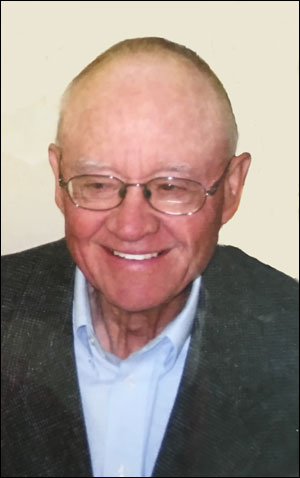 Billy Don Read, 84, of Bovina, Texas, died Wednesday, May 17, 2016. Funeral services will be held at 11:00 a.m. Friday, May 20, 2016 at the First Baptist Church in Bovina, Texas with Rev. Brian Mullins, pastor, and Rev. Larry Mitchell, pastor of the Bovina United Methodist Church, officiating. Arrangements are under the direction of Blackwell - Mullins Funeral Home of Friona.
Billy was born October 28, 1931, in Paradise, Texas to Homer Nathaniel and Nola Wright Read. He married Joyce Audrey Stowers in February of 1960 in Clovis, New Mexico. He served in the United States Air Force. He was a longtime agriculture spray technician for many years and a member of the National Agriculture Aviation Association. He also was a member of the American Legion, American Quarter Horse Association, and Southwest Car Wash Association and First Baptist Church in Bovina. His hobbies included horse racing, working hard, and he loved to watch his grandchildren's ball games. He loved his children, grandchildren and he did everything he could possibly do for them.
He is preceded in death by both parents and one brother, Robert Read.
Survivors include his wife, Joyce Read of Bovina; two sons, Mike Read of Bovina and Lyndon Read and wife Holli of Lubbock; one brother, Darrel Read and wife Patricia of Dumas; one sister-in-law, Pat Read of Three Rivers; six grandchildren, Greg Read, Zane Anderson, Brett Anderson, Shaylee Anderson, Kennedy Read, and Chloe Read.
Family suggest memorials be made to First Baptist Church, 3rd and Ave. D, Bovina, Texas 79009.
You may sign the register book at www.blackwellmullins.com