Barnett receives DPS award
The Texas Department of Public Safety (DPS)in Austin recently presented four Medals of Valor, three Purple Hearts, and four Director's Awards for their exemplary service and courageous actions.
The recipients were law enforcement officers, current and retired, and one civilian. That civilian was Ricky Barnett of Friona.
"Keeping our communities safe depends on the shared efforts of law enforcement and Texas residents, and today DPS is proud to honor these outstanding individuals who truly take that sentiment to heart," said DPS Director Steven McCraw.
The award description press release stated that during a traffic stop March 19, 2016, Trooper Gary Reed attempted to arrest a driver who was suspected of being intoxicated. The driver resisted arrest and struggled with Reed. The struggle was still underway several minutes later when Barnett, a nearby resident, approached the scene to offer assistance. Barnett helped the Trooper control and handcuff the driver.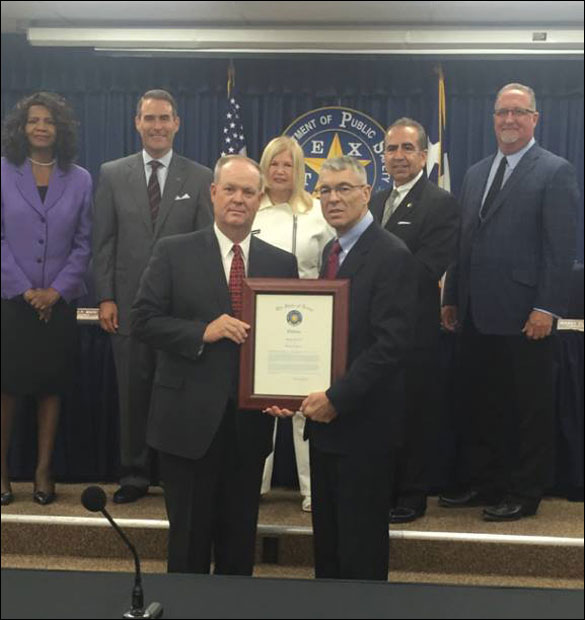 courtesy photo
Ricky Barnett, left, receives a Director's Award from the Department of Public Safety (DPS) during recent ceremonies in Austin. Barnett helped Trooper Gary Reed control, handcuff, and arrest an intoxicated driver who was resisting arrest near Barnett's home on FM 2397.