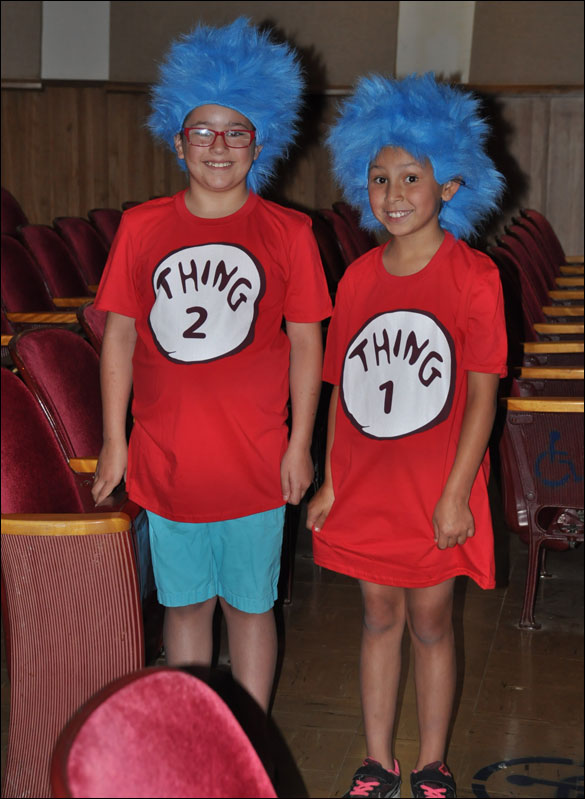 dana jameson photo
Thing 2 (Nadia Snyder) and Thing 1 (Audree Reyes) were on hand to cause mischief for the Friona Public Library Summer Reading program featuring Dr. Suess (Duffy Hudson) held Thursday, June 23 at the Friona Junior High Auditorium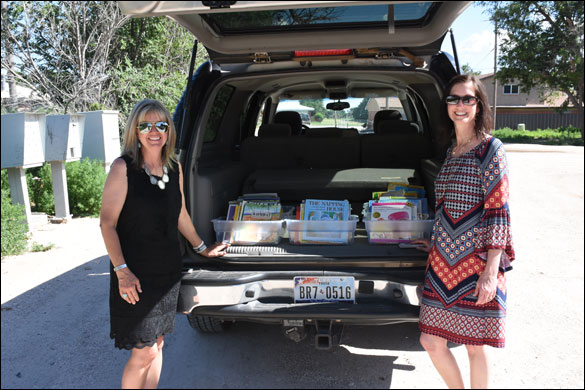 ron carr photo
Friona ISD first grade teachers Annette Frye, left, and Beverly Ingram with their buckets of books have been hosting Books, Family, & Fun program for summer reading. Kids that participate receive books to keep. They will have another round of meetings for the kids in July.
Happy birthday to my little brother Rick on Wednesday June 29. He was born in 1956, the summer before my senior year in Hillsboro High School. I was 16 when Rickie was born. Mother let me name him, Rickie Lee Carr, his initials the same as mine. Seemed fun and important at the time. I graduated a few weeks before his 1st birthday. I can't pick him up and toss him around anymore. (more...)
Commissioners okay school fund payouts
Parmer County Commissioners met Monday in the county courtroom in Farwell.
Requests from the Bovina ISD and Lazbuddie ISD to withdraw funds from the Parmer County Permanent School Fund were approved. Bovina ISD will receive $760,665 to be used in the construction of a new gym facility. Lazbuddie's total was $66,013 to be used for facility maintenance.
Earl Behrends spoke to the commissioners about the watershed structures along Running Water Draw. They signed an agreement with software company Indigent Healthcare Systems to monitor inmate medical care and renewed a lease agreement with Efrain Balli for the county roll-off box. (more...)
Kidz Building Camp steering committee meets
The 1st Annual Friona Kidz Building Camp steering committee met Tuesday, June 28 at the Friona Chamber of Commerce & Agriculture meeting room to discuss plans for the camp.
The camp will be held July 19-23 from 5 p.m. to 9 p.m. outside the Boy Scout Hut by the Community Center. Children ages 5-12 years of age are invited to come out and enjoy this educational and fun camp. (more...)
Parade entries, runners needed
The Friona Chamber of Commerce & Agriculture needs you! They are looking for more participants for the parades on the July 4th.
There are two parades planned. The first will be at 9 a.m. on 10th Street. Decorate your bicycles, four-wheelers, wagons, etc. and show your patriotism. (more...)
Service projects needed for July 9
Friona Youth Dayz is sponsoring Clean Up Friona Day Saturday, July 9, and they are in need of service projects. If you have something that needs done, please call First Baptist at (806) 250- 3933 or Friona United Methodist Church at (806) 250-2377. Please leave your name, phone number, and what needs to be done, and someone will get back in touch with you.