Obituary
Royce "Gene" Welch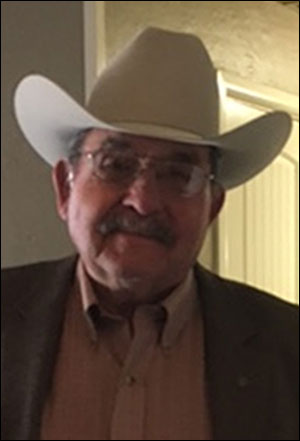 Royce "Gene" Welch, 83, of Friona, died Saturday June 25, 2016 in Friona. Memorial services were held Tuesday, June 28, 2016 at the First Baptist Church in Friona with Rev. Ellis Parson, pastor of the Summerfield Baptist Church and Rev. Brett Hoyle, pastor of the First Baptist Church in Friona, officiating. Arrangements were by Blackwell-Mullins Funeral Home of Friona.
Gene was born February 6, 1933 in a dugout in Gray County to W.H. and Myrtis Welch.
Gene was on his own at the age of sixteen. He started out working for the railroad crew and then moved on to a seismograph crew. During that time, Gene met the love of his life, Mildred Lafern Harkins. They married on June 29, 1952 in Plainview. They began farming in Hale County in 1954 and later moved to Friona area in 1956 and continued their farming and cattle operation until the present.
Gene was a dedicated member of Summerfield Baptist Church where he attended and served for 59 years.
He served his community and profession in many areas such as the FmHA, Friona Consumers and PCCA boards. Gene also helped establish the Plains Gas Co-op and the Friona Farmers Co-op Gin where he served for 30 years.
Gene was dedicated to his Lord and his family. He always had a smile, a funny story and a contagious laugh.
He was preceded in death by his parents and one brother, Glenn.
Survivors include his wife, Mildred; three children, Veca White, Kevin Welch and wife Linda and Varla Wilcox and her husband Terry all of Friona; one brother, Wayne Welch and his wife Paula of Amarillo; 11 grandchildren, Vacresia Salyer and husband Greg of Shallowater, LaTawn Warsaw and husband Pete of Midland, Vanette Barnett and husband Todd of Amarillo, V'Lynda Barnett and husband Kevin of Perryton, V'Laura Sundlie and husband Justin of Lubbock, V'Lesha Pelton and husband Raymond of San Angelo, Tolby Wilcox and wife Jen of Lubbock, Kelsey Welch of Amarillo, Katy Welch of Lubbock, Dillon Welch of Hobbs NM, and Duncan Welch of Friona; 16 great-grandchildren Mason, Gage, Liam, Gene, Maddison, Ellis, Kitzy, Valeigh, Bryce, Aubrey, Easton, Palmer, McCoy, Slaton, Parker, Marlee; and numerous nieces and nephews.
The family suggests memorials be Parmer Medical Center, 1307 Cleveland, Friona, Texas 79035 or Bluebonnet Home Health and Hospice, 304 East 11th Street, Friona, Texas 79035.
You may sign the online register book at www.blackwellmullins.com.