Obituaries
Baltazar R. Bautista, Sr.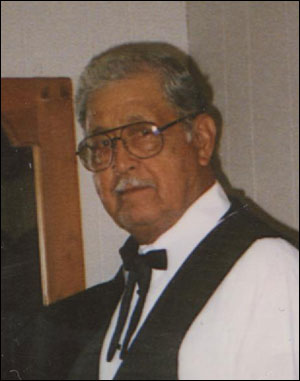 Baltazar R. Bautista, Sr., 85, was born on December 25, 1930 in Los Fresnos, Texas and passed away at Valley Baptist Medical Center in Harlingen, Texas on July 7, 2016. He is preceded in death by his parents, Alejo and Tomasa (Reyna) Bautista, loving wife Eladia ("Lala") Bautista, great-granddaughter Alexis E. Alaniz; brothers, Eusebio, Tomas, Alejandro and David Bautista.
Survivors include brothers, Pilar (Leonor) Bautista, Lupe (Josie) Bautista, Ignacio (Mary) Bautista; and sisters, Cristina Gonzales, Esperanza Montes and Herminia Pena and Teresa Vasquez.
He is also survived by his children, Baltazar (Teresa) Bautista Jr., Janie ( Ruben) Gomez, Noemi (Valentin) Arredondo, Hilario (Malinda) Bautista Sr. and Alfredo (Dee) Bautista Sr.; grandchildren, Sergio (Rocio) Bautista, Sonia Bautisa, Hopey (Morgan) Pyle, LeRoy (Monica) Arredondo, Michelle Arredondo, Lisa Anai (Armando, Sr.) Alaniz, Hilario Jr., Anthony (Mimi) Bautista, Jesse Bautista, Steven Bautista, Brandon "BJ" Bautista, Alfredo (Sabrina) Bautista Jr., and Stephanie (Jesse) Zamudio; as well as 15 great-grandchildren, numerous nieces, nephews, family and friends.
For all of his life, our dad was a farmer. He treasured his bond with the earth; it was a gift. He will always be remembered as a kind man who embraced everyone he met. Dad enjoyed visits from family and friends, talking on the phone and telling jokes. His quick wit will be missed.
He developed a very special relationship with the staff of Windsor Atrium Rehab. Our family is grateful for the care and compassion they bestowed upon our dad. The Bautista family would also like to express our deepest gratitude to Dr. Robert Minor for the outstanding personalized care our dad received during this difficult time.
We have lost a gentle soul, but he is finally at peace.
Funeral services were held Monday, the 11th of July 2016, within the San Benito Funeral Home Chapel. Interment followed at Los Cuates Cemetery.
You are invited to send your condolences to the family, sign the guestbook, and share your memories of Baltazar online at www.sanbenitofuneralhome.com.
San Benito Funeral Home were entrusted with the arrangements.
Christine Wright Johnson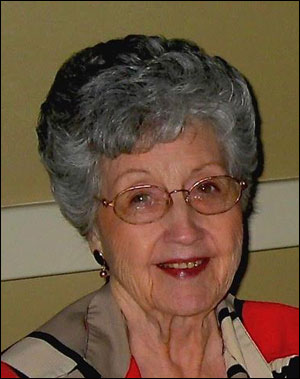 Christine Wright Johnson, 90, of Shallowater, passed away July 9, 2016.
Funeral service were held Thursday, July 14, 2016 at Shallowater First Baptist Church. Interment took place at Resthaven Memorial Park.
She was born in Shallowater on March 26, 1926. Christine graduated from Shallowater High School in 1943. She was married to Leroy Johnson August 7, 1943. They moved to Friona, Texas in 1963 where they were engaged in farming. They moved back to Shallowater in 1981. Leroy died in 1988.
Christine was a devoted housewife and mother. She was a lifetime member of the Eastern Star, belonged to the Shallowater Study Club and was a member of the Shallowater First Baptist Church for over 60 years.
She loved to read, needlepoint, paint, cook and especially enjoyed her family at holidays and spending time with her children, grandchildren, and great grandchildren. She loved playing Skip-Bo with friends. She also loved her beloved cats Lou and Buzzy.
She is survived by her son, Phillip Neil Johnson and wife Trudi of Shallowater; daughter, Cinda Kay Johnson Scheef and husband David of Houston; daughter, Julie Ann Johnson Andrews of Lubbock; grandchildren, Beth Frazee, Lindsey Dickerson and husband Aaron, Brian Scheef, Andrew Scheef and wife Melissa, Whitney Fleishman and husband Justin; great grandchildren, Ashlee Davis, Kade Johnson, Tyler Scheef and Rex Scheef; and one great grandson, Briar Davis.
The family would like to thank the staff and caregivers at Wedgewood South and Accolade Hospice for taking excellent care of Christine. Your care and compassion made such a difference in the last days of her life.
Online condolences may be made at www.resthavenfuneralhome.com.
Maria Duran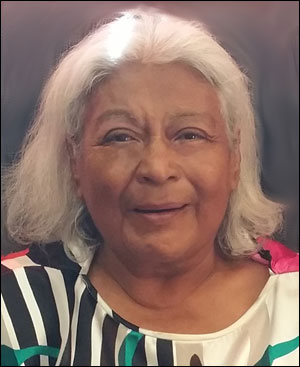 Maria Duran, 65, of Friona, died Sunday, July 10, 2016 in Amarillo. Mass of Christian Burial was held Thursday, July 14, 2016 at St. Teresa's Catholic Church in Friona with Rev. Anthony Neusch, of St. Anthony's Catholic Church in Hereford, as Celebrant. Burial followed under the direction of Blackwell-Mullins Funeral Home of Friona.
Maria was born May 19, 1951, in Lubbock, Texas, to Reynaldo and Santos Ybarra Morales. She married Joe Guadalupe Duran October 19, 1968 in Levelland. She loved her family, especially her grandchildren and great-grandchildren. She was a member of the Catholic Church.
She is preceded in death by her parents, one brother, Jessie Morales, and two sisters, Margarita Salas and Connie Morales.
Survivors include her husband Joe G. Duran of Friona; five sons, Joe Duran of Amarillo, Ben Duran and Lupe Duran of Lubbock, Juan Duran and Matti Duran of Friona; one daughter, Teresa Ramos of Friona; four brothers, Gilbert Morales of Muleshoe, Frank Morales of Electra, Martin Morales, and Reynaldo Junior Morales of Littlefield; one sister, Josephina McCrary of Littlefield; 19 grandchildren; and nine great-grandchildren.
You may sign the online register book at www.blackwellmullins.com