Obituary
Esperanza Marquez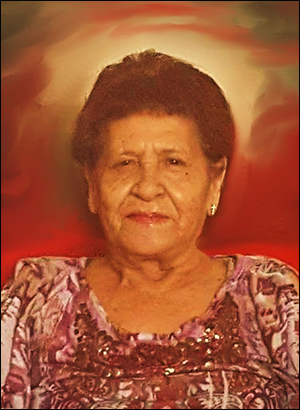 Esperanza Marquez, 76, of Friona, died Friday, September 29, 2017 in Friona. Celebration of Life services were held Tuesday, October 3, 2017 at Iglesia Evangelica Nueva Jerusalen in Friona with Pastor Benito Mejia, officiating. Burial followed in the Friona Cemetery by Blackwell-Mullins Funeral Home of Friona.
Esperanza was born December 14, 1940 in Mexico to Jesus Maria and Ignacia Rivera Marquez. She married Manuel Ricardo Dorame in Kansas. She loved to cook for others, tend to her flowers and was a member of the Iglesia Evangelica Nueva Jerusalen in Friona.
She is preceded in death by her parents; two sons, Sergio Acosta and Manuel Acosta; one sister, Dora Marquez; four brothers, Jesus Marquez, Leopoldo Marquez, Frederico Marquez and Raymundo Marquez.
Survivors include her husband Manuel of Friona; three daughters, Graciela Rey of Friona, Ofelia Anaya of Phoenix, AZ., and Oralia Acosta of Mexico; one son, Raul Acosta of Garden City, Kansas; two sisters, Eva Marquez of Mexico and Francisca Marquez of Friona; two brothers, Rosario Marquez and Rafael Marquez both of Mexico; 15 grandchildren; and 19 great-grandchildren.
You may sign the online register book at www.blackwellmullins.com.