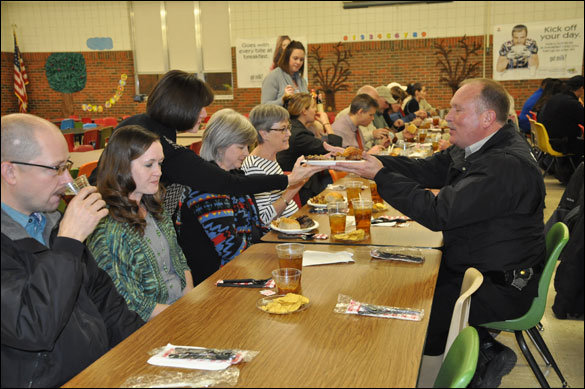 dana jameson photo
Parmer County Sheriff Randy Geries accepts a plate from FISD Special Programs Director Karen Barnes at the 1st Annual First Responders Dinner held Thursday, January 26 at the Friona Junior High Cafeteria. The dinner was to honor the first responders of Parmer County for their diligent service to the community and school system. The responders were treated to grilled steaks and Friona Noon Lions Famous Fries, as well as homemade cafeteria rolls. FISD Superintendent Dr. Pam Ray and staff members served the meal. FISD plans on making this a yearly event. Honored at the event were members of the Friona Volunteer Fire Department, Friona Police Department, Friona EMS, Parmer County Sheriff's Office and their spouses.
Bovina Chamber Banquet is Mar. 21
The Bovina Chamber of Commerce will host their annual banquet on Tuesday, March 21 at 7 p.m. at the Bovina XIT Recreation Center. They are seeking nominations for Citizen of the Year, Citizenship Award, Educator of the Year, Boy & Girl of the year and Heritage Award. Send your nominations to the Bovina Chamber of Commerce, P.O. Box 627, Bovina, TX 79009. This is an important tradition to continue honoring local deserving folks.
The Depot annual meeting will be held Friday February 10 at noon in the depot in city park. A lunch of cowboy stew will be served during the business meeting. All members and others interested parties are invited.
*****
The blood drive last week saw 62 donors and drew 55 units of blood with only 5 deferrals. A deferral is a donor that comes to give but is declined due to some health issue. Thanks to everyone that came to give the gift of life. (more...)
The 2017 FHS Senior Steak Dinner will be held Sunday, April 2 from 11 a.m. to 1:30 p.m. at the Friona Junior High Cafeteria, 1001 Euclid. They will be serving up 8 oz. ribeye steaks accompanied by baked potatoes, green beans and rolls. Advance tickets are $15. At the door tickets will be $16. Takeout will be available. (more...)
Friona Chamber needs nominations
If you know an outstanding person who deserves to be honored for their excellence the Friona Chamber of Commerce & Agriculture has the opportunity for you. They are accepting nominations for the 2017 Chamber Banquet on Tuesday, March 7, 2017 at the Friona Community Center. (more...)