Obituary
Curtis Edward Israel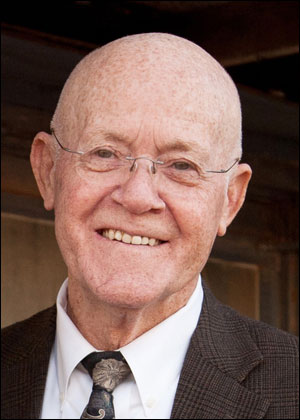 Curtis Edward Israel (age 82) went to be with his Lord on January 25, 2017. Curtis was born in Levelland, Texas on October 23, 1934 to Charlie Green and Mary Lee (Herrington) Israel. Curtis was the eldest son of six children.
Curtis graduated from Levelland High School, then attended Sul Ross State University where he played basketball and baseball and earned a degree in geology. Curtis received the first Bible scholarship offered by Lubbock Christian College and completed his bachelor's degree there. At approximately 60 years old, Curtis earned his doctoral degree in Bible, theology, and ministry.
Curtis fell in love with the "pretty young school teacher down the road" in Whitharral, Texas. It was during their courtship that Curtis learned about the Lord and gave the remainder of his life to serving Him whole-heartedly. Curtis and Mary Nell Crosby were married on June 9, 1963.
Curtis, Mary, and their two daughters moved around a great deal. Curtis joked that they were true "Israelites" – like Moses and the children of Israel in the Bible, picking up their tents and moving wherever God led. A few places they lived as a family include Clovis, NM; Carlsbad, NM; Houston, TX; Centralia, IL; New York City, NY; Lubbock, TX; Tulsa, OK; Denver City, TX; and Friona, TX. No matter where they lived, Curtis and Mary were always actively involved in their church home, teaching Bible classes and serving in whatever capacity was needed.
The birth of their first (and only) grandchild in Midland, Texas resulted in their abandoning their nomadic lifestyle. Hannah was the light of "Papa's" life. She spent many afternoons at Papa's and Granny's house after school, and she and Papa shared an extraordinarily special bond. When he would hear the door open, he would call out, "Where's my Hannah?" Even towards the end of his time here, his eyes would light up when "his Hannah" entered the room.
Curtis always characterized himself as a "jack of all trades and a master of none." His employment experience includes working as a preacher; co-director (and founder) of Skyridge Christian Youth Camp; parts department manager at several car dealerships; stockbroker for Merrill-Lynch; sixth grade science teacher; private pilot; director for a senior care facility; insurance salesman; ranch hand; and geologist. He turned down offers to pitch professionally for several baseball teams, including the New York Yankees and the St. Louis Cardinals – a decision he never regretted as he would "never have met Momma or had either of you girls."
His career never defined Curtis. Whatever his job title, his only "mission statement" was to live by faith, seek righteousness, mirror Jesus to the people around him, and draw them to the abundant life with Christ he so treasured. Curtis was deeply loved by everyone – he was gentle, tender-hearted, humble, patient, wise, compassionate, encouraging, and always ready to tell a story and enjoy a good laugh.
A phrase heard often as advice and encouragement from Curtis was "Steady in the boat." This summarizes how he lived his life – no matter the circumstances, whether the water was calm or the waves high – Curtis held to the unwavering belief that God's providence and promises could be trusted.
Curtis is preceded in death by his parents; his sisters, Margaret Wallace of Levelland, TX and Charlene Hogue of Granbury, TX; and his brothers, Benton Israel of Friona, TX and Dale Israel of Levelland, TX.
Curtis is survived by his loving wife of 53 years, Mary Nell (Crosby) Israel; his daughter, Amy Penland, son-in-law, Hayes Penland, and favorite granddaughter, Hannah; daughter Bonnie Israel all of Midland, TX; and brother Chester Israel of Levelland, TX.
Memorial services were held at Fairmont Park Church of Christ in Midland, Texas on January 28, 2017 with D.L. Harguess, Jr. of Amarillo, TX officiated. In lieu of flowers, a donation may be made to Fairmont Park Church of Christ or to the charity of your choice.
Arrangements were under the direction of Nalley-Pickle & Welch Funeral Home & Crematory of Midland. Online condolences may be made at www.npwelch.com.