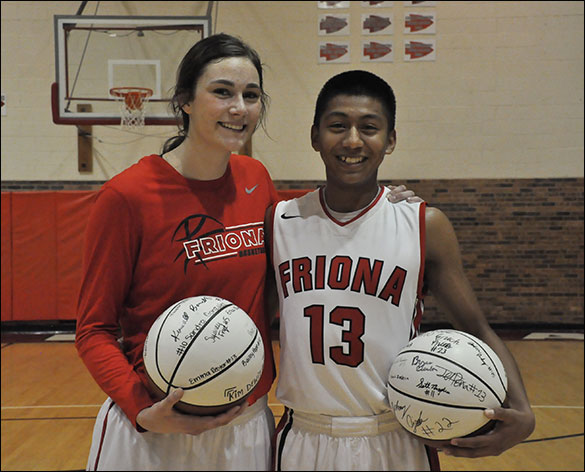 dana jameson photo
FHS Seniors Kim DeWit, left, and Daniel "Jet" Pena were crowned Basketball Queen and King at the Winter Sports Senior Night between the Varsity Girls and Boys games against the Slaton Tigers. The senior athletes from Powerlifting, Cheer and Girls and Boys Basketball were recognized along with their parents.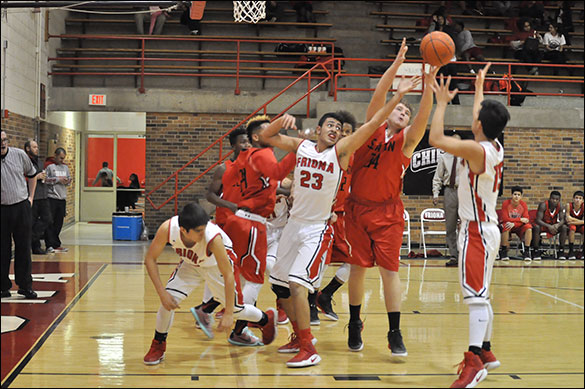 dana jameson photo
The Chieftains battled the Slaton Tigers on Tuesday evening. Eric Prieto (23) and Ivan Gallardo (15) go for the rebound against a streak of Tigers under the goal. The Chief have two more games before the end of the season. The travel to Idalou Friday, February 10 and host Shallowater on Tuesday, February 14.
A post on Facebook said this: Heritage Estates is hiring. Go by to apply or call Dawn or Carol at 250-5599 for details.
*****
Official weather guy John Gurley reports we had 1.63" of moisture in January and the temperature ranged from 71 high to -4 low.
*****
This is one of those sad and happy situations. Carol Ellis' family has moved her to Lubbock. She was beginning to have some of those age issues so they moved her into the Raider Ranch Retirement Village. I will forever be grateful to Bill and Carol Ellis for hiring me here at the Friona Star back in 1995 then selling me the paper in 2003. Bill passed away a few years back, now Carol has moved. I know she will eventually enjoy her new retirement surroundings.
If any of her old friends around here want to send her a card or letter or maybe some candy and cookies, here is her address: Carol Ellis, 6548 43rd St. Apt 2119, Lubbock, TX 79407. (more...)