Obituaries
Lola Faye Veazey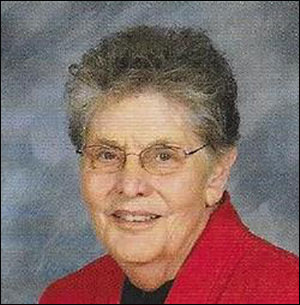 Long-time Hereford resident, Lola Faye Veazey, 84, went home to be with our Heavenly Father on Wednesday, February 22, 2017.
A Memorial service was held Friday, February 24, 2017 at First United Methodist Church. Services were under the direction of Hereford Heritage Funeral Home, 411 E. 6th Street.
Lola Faye was born on November 20, 1932, in Deaf Smith County, Texas to Fred Wesley Brunson and Ada Pearl (Hight) Brunson.
She went to work at the Deaf Smith County Courthouse on June 1, 1970, as the Deputy District Clerk. Lola Faye thoroughly enjoyed her elected position as the Deaf Smith District Clerk, which she began on January 1, 1975 and retired from on December 31, 1998. She was also an active member of Lion's Club and served as the Salvation Army treasurer for many years. After her retirement, she took several trips including a cruise to Alaska and another to Australia where she went white-water rafting. She enjoyed tending to her beloved peonies and gardening in general. Her interests were many and included her bridge group, canning, making holiday candy, and time spent with her grandchildren. Lola Faye was a member of First United Methodist Church.
Lola Faye is preceded in death by her parents and five siblings.
Lola Faye is survived by her sons Mike Veazey and wife Barbara of Hereford and Johnny and wife Kandi of Vega, TX; her daughter Becky of Dallas, TX; her sister Rae Gonzales of Lake Tanglewood, TX, her sisters Kathleen Thompson of Lubbock, TX, Gracie Cornelius of Hereford, TX; five grandchildren; many nieces and nephews; and many lifelong friends.
The family suggests memorials to the Salvation Army, P.O. Box 2490, Amarillo, TX 79101.
You are invited to express your condolences to the family and sign the online guest book at www.herefordheritagefh.com.
Richard Fitzgerald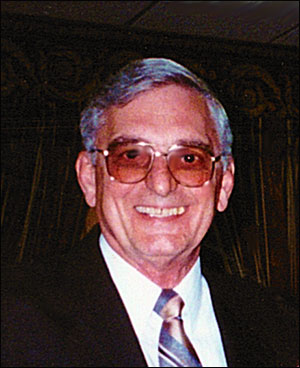 Richard Fitzgerald, 74, of Friona, died Sunday, February 26, 2017 in Friona. Funeral services have been scheduled for 2:00 P.M. Thursday, March 2, 2017 at the Friona United Methodist Church in Friona with Rev. Skip Hodges, pastor, officiating. Burial will be at 2:00 P.M. Friday, March 3, 2017 at the El Reno Cemetery in El Reno, Oklahoma by Blackwell-Mullins Funeral Home of Friona.
Richard was born April 4, 1942 in Brooklyn, New York to Joe and Mary Belle Elswick Fitzgerald. He married Christine H. Sheets September 28, 2002. He was as former sales manager and comptroller for Hi Pro Feeds in Friona. He loved rattlesnake hunting, playing black jack and was an excellent pool player.
He is preceded in death by his parents and a brother, John Fitzgerald.
Survivors include his wife, Christine Fitzgerald of Friona; two daughters, Cathleen Jones and husband Phil of Norman, Oklahoma, and Angela Fitzgerald of Amarillo; one son, John Fitzgerald and wife Tara of Lubbock; one sister, Rita Jo Fitzgerald of Lubbock; one brother, Bob Fitzgerald and wife Shelly of Hayden Lake, Idaho; and five grandchildren.
You may sign the online register book at www.blackwellmullins.com
Doris Mae Sides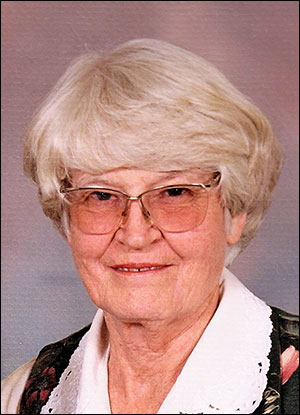 Doris Mae Sides joined her husband Billy B. Sides in their heavenly home on February 26, 2017. She was born in Taylor, Texas on March 10, 1928 to her parents Arthur Gideon Lundberg and Ellen Mae Caskey Lundberg. She was preceded in death by her husband, Billy, her parents, her sister, Kathryn, and granddaughter Jennifer Ellen Skaggs.
Doris married Billy B. Sides on December 25, 1946 and celebrated 64 years of marriage. Three children were born to this union: James, Kara, and David.
Doris was a farmer's wife, helping her husband. They first farmed near Idalou, then Hurlwood, followed by the Friona area, and finally 41 years in the Oklahoma Lane community near Farwell, Texas.
Doris returned to college in the 1960's and earned her Bachelor's and Master's Degree in Education. She earned her teaching certificate and taught school in the Bovina and Friona elementary schools.
In the 1980's she and Billy enjoyed Golden years where they worked but mostly played with grandchildren. They enjoyed pond fishing, swimming, cooking out, gardening, and celebrating everything. She loved her family and friends, and enjoyed playing games such as dominoes, 42, and pitch.
Graveside services were held at the Oklahoma Lane Cemetery in Farwell, TX on Wednesday March 1. Arrangements were under the direction of Sanders Funeral Home.
Doris is survived by two sons, James (Tina) Sides of the Oklahoma Lane Community east of Farwell, David (Lynda) Sides of Clovis area, and daughter, Kara (Danny) Skaggs of San Antonio; grandchildren, Angela (Will) Gordon of Lewisville, Jeremy (Carey) Skaggs and Nathan (Alana) Skaggs, both of San Antonio, Jacque (Jim) Simnick of Greeley, Colorado, Jim Bob (Anna) Sides of Portales, and Ginger (Dusty) Moore of Lubbock; and great-grandchildren, Troy and Lauren Simnick of Greeley, Colorado, Dustan and Clara Sides of Portales, Daphne , Ella and Macy Moore of Lubbock, Ethan and Mark Skaggs of San Antonio and Grayson, Weston and Lawson Skaggs of San Antonio, and Jackson, Jace, and Bailey Gordon, all of Lewisville, TX.
If you wish to make a memorial in remembrance of Doris Sides, donation to Oklahoma Lane Methodist Church will be accepted by Kanetha Foster, 1215 FM145, Farwell, TX 79325.
AlLee Chan Gee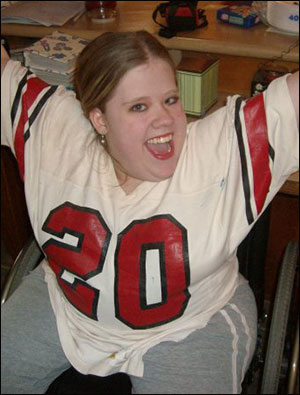 AlLee Chan Gee, 25, of Friona, died February 27, 2017 in Amarillo. Celebration of Life services will be held 2:00 p.m. Saturday, March 4, 2017 at the 6th St. Church of Christ in Friona with Jeff Procter, minister, officiating. Burial following in the Friona Cemetery by Blackwell-Mullins Funeral Home of Friona.
AlLee was born February 21, 1992 in Muleshoe. She is a 2010 graduate of Friona High School.
AlLee loved to talk and make people happy. She loved music, spending time with her family and adored her dog Pebbles.
She is preceded in death by her grandfather, Everett Gee, great-grandfather, Johnny W. Hand, and a sister, Rylee J. Roberts.
Survivors include her mother, Ashlee Roberts; her father, Kevin Roberts; two sisters, Natalee Roberts and Emalee Roberts; one brother, Keeton Roberts; grandmother, Wesslie Hand; one uncle, Dustee Gee; and one great-grandmother, Elthie Hand, all of Friona.
You may sign the online register book at www.blackwellmullins.com.