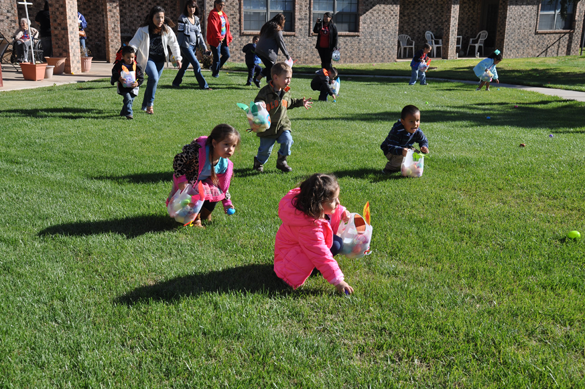 dana jameson photo
The Easter Bunny made an early visit to Prairie Acres and Friona Heritage Estates Thursday, April 6. Delighted children hurried to find all the colorful eggs that were dyed, filled and hidden by the residents. The children from Story Time at the Library and Pre-K students enjoyed hunting the eggs. Their baskets were filled to the brim. More Easter egg hunts are planned this weekend at the City Park and First United Methodist Church.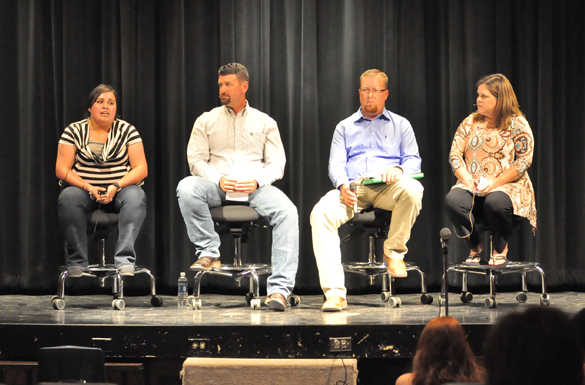 dana jameson photo
Meet the Candidates Forum...FISD Board of Trustees candidates assembled on stage Sunday to answer questions. Candidates are, l-r, Maria Monreal Garcia, Corbin Riethmayer, Wade Schueler, and Jamie Lewellen. Remember to vote May 6.
Happy anniversary to John & Kathryn Gurley (28 years) and Nathan & Crystal Moroney (12 years). Congratulations to these happily married couples.
*****
We got a beautiful card and note from one of our longtime readers, Jocarrol Czeizinger. In it she wrote, "I still enjoy reading the Friona Star. About the people I knew when growing up in Friona, and about my cousins that live in Friona. Keep up the good work." Thank you Jocarrol. (more...)
Forum features four school board candidates
The four Friona Independent School District School Board Trustee candidates came together Sunday, April 9 at the Friona High School for a Meet the Candidates Forum. Candidates for the upcoming election are Maria Monreal Garcia, Corbin Riethmayer, incumbent Wade Schueler, and Jamie Lewellen. The forum was hosted by Coach Darrel Ray and his Government/Economics class. Moderators for the event were Paige Upton and Alvaro Gardea. (more...)
Easter Eggstravaganza set for Sat.
Victory Family Worship Church is hosting the 2017 Easter Eggstravaganza this Saturday, April 15 at the Friona City Park. The community is invited to come out and enjoy free hot dogs at 1 p.m. and the egg hunt will begin at 2 p.m. The Easter Bunny will be on hand for pictures. The egg hunt will be divided by age groups from age 2 to 5th grade. There will be over 2,000 eggs and cash prize eggs. Make plans to come out and enjoy an old-fashioned Easter egg hunt on Saturday.