Obituary
Rodney Ortiz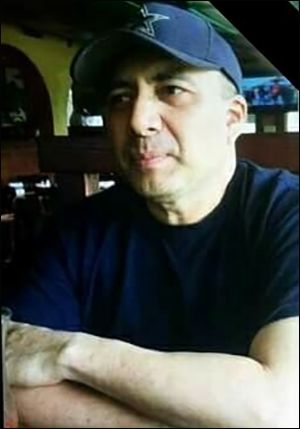 Rodney Ortiz, 46, of Eagle Lake, Texas, died April 1, 2017 in Houston. Rodney was born June 1, 1970 in Friona, Texas to Antonio and Olivia Horta Ortiz.
Rodney graduated Friona High School class of 1988. He then went on to become a welder.
Rodney was preceded in death by his father, Antonio Gonzales Ortiz, and mother, Olivia Horta Ortiz, as well as a stepson, Ricky Alvarez.
Survivors include his wife Ruby Estrada; son, Paul Anthony Ortiz, Sr. and wife Bianca Ynacia Valdez, of Corpus Christie, Texas; grandchildren, Paul Anthony Ortiz, Jr. and Ricky Louis Ortiz: stepchildren, Becky Alvarez and Steven Saenz; brothers, Paul A. Ortiz and Norma, of Clovis, New Mexico, Joe Ortiz and Connie, of Boling, Randy Ortiz and Patricia, of San Antonio; Missy Ortiz, of Friona, and Elpidio Gonzalez and Dinora of Friona; as well as numerous nieces and nephews.
Mass of Christian Burial was celebrated on Wednesday, April 5, 2017 at Our Lady of Mt. Carmel Catholic Church. Rite of Christian Burial followed in Evergreen Memorial Park. Serving as pallbearers were Jeremy Ortiz, R.J. Sanchez, David Horta, David Ramirez, Robby Sanchez, and Dustin Ortiz.
Funeral services were under the direction of Wharton Funeral Home. Condolences may be left at www.whartonfuneralhome.com.