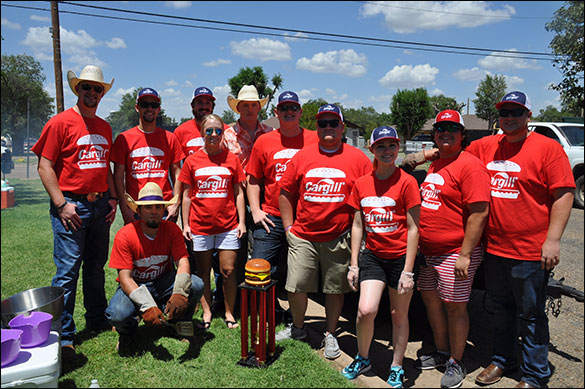 dana jameson photo
Cargill Meat Solutions created the No. 1 Cheeseburger at the 12th Annual Cheeseburger Festival. Members of the team are, l-r, Keeston Ford, Andrew Livingston, Schuyler Mullins, Micah Ford, Casey Balak, Clay Maynard, Preston Lawrence, Samantha Judd, Lalo Hermosilla, Thomas Long, and Julian Cereceres(squatting).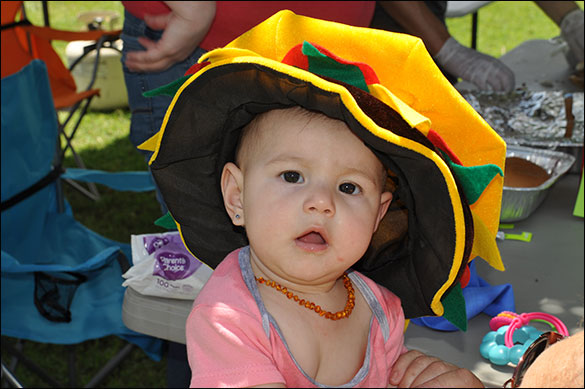 dana jameson photo
Scarlet Benavides was one of approximately 3,000 cheeseburger lovers that enjoyed the 12th Annual Cheeseburger Festival on Saturday, July 15 at the Friona City Park. Scarlet is the daughter of Cyla and Jaime Benavides and granddaughter of Jaime and Lourdes Benavides.

The third in a series of Miss Friona Workshops will be held on Saturday, July 22 at 10 a.m. at the Depot in the City Park. Kathryn Rector's daughter, Kaci Blagrave, will be discussing pageant makeup and hair for presenting yourself on stage. Kaci has worked with Miss Texas and Texas Outstanding Teen candidates at the state pageant. The girls are asked to bring your shoes so you can practice walking. (more...)
Cargill named 2017 #1 Cheeseburger team
The 12th Annual Cheeseburger Festival is now in the history books and bragging rights belong to Cargill for their first place win with a jalapeño popper dip cheeseburger, the FISD Football coaches (and spouses) "Big Red" for their 2nd place grilled cheese topped cheeseburger, and Whiteface Ford "Patty Daddies" for their People's Choice old-fashioned cheeseburger. Cargill donated their $1,000 prize to the Action for an Ambulance Fund. (more...)
Service projects are needed for Friona Youth Dayz Saturday, August 5. If you need something done at your home—tree limbs removed, light bulbs replaced, something hauled to the roll-off, etc.--please contact Teena Hughs at 250-2377. There will be students willing to work, so please don't hesitate to call.

First Responders Luncheon
Prairie Acres wants to say 'Thank You' to all the local First Responders with an Appreciation Luncheon on Wednesday, July 26 at noon. All local first responders are invited to come out for lunch.