Transplant recipient meets donor family
Almost four years ago the Jackson and Samarron family lost their wife, mother, sister, daughter and friend when Delia Jackson succumbed to a brain tumor November 9, 2013 in Amarillo at Baptist St. Anthony Hospital. Delia left behind her husband Billy, a daughter Megan, her brothers and sisters, aunts and uncles, and numerous nieces and nephews.
Delia was an organ donor and there was a four-hour window from the time that Delia passed away and the actual transplant to insure the viability of the heart.
This past weekend Delia's heart returned to Friona in organ recipient Wendy Tarver of Nacogdoches, Texas. This was the first time that Delia's family had met Wendy.
Wendy had had her own journey to being healthy again. Her first heart attack had killed her heart and she was given a heart pump. The heart pump began to give out after seven months just as she got the call that a heart had been located. She made the trip to Houston and Delia's heart was transplanted.
After the transplant, Wendy wanted to know who had donated their heart for her to live. She was told that she needed to wait until the grieving process had passed before contacting the family. So, she waited.
In the meantime, she made a trip to Friona and visited the cemetery. Wendy wasn't sure where Delia was buried but she and her husband split up to find the grave. She told the family later that she saw a jackrabbit and walked toward it. The rabbit was sitting on Delia's headstone. Wendy left a letter and flowers at the gravesite.
About a year after the transplant, Wendy had another heart attack and had to have a bypass done to her new heart.
Wendy got into contact with Delia's husband Billy and Delia's nieces Cassie Tapia and Bianca Arellano on Facebook and has kept in touch.
Last weekend, Saturday, July 22, family and friends gathered to welcome Wendy, her husband Charles and son Ryan. They met at the home of Richard and Vickie Samarron.
The family celebrated the life Delia had lived and the life that Wendy continues to live due to Delia's generous donation. Family and friends enjoyed a barbecue lunch.
"It was an amazing weekend," said Richard. "Every time I hugged her it felt right."
There was nothing uncomfortable about the meeting. It was as if Delia was there. Wendy told the family that she felt like she was at home.
An interesting fact that came of the meeting was that Wendy's birthday is December 29, 1971 and Delia's birthday was December 30, 1971.
She admitted that she thought of Delia's daughter Megan all the time even though she had never met her until last Saturday.
After a cookout and time to talk, Wendy, her family and Delia's family went to the cemetery where Wendy laid flowers on her grave.
"I am very, very grateful to the family," said Wendy.
Richard took Wendy and her family to Parmer Medical Center and spoke with Dr. Felipe Jubay, Monia Ann Venhaus and Joshua Beare, friends of Delia. Delia was a Certified Nurse's Aide at PMC.
There were plenty of tears and laughter throughout the day but also a bond was made that will not be broken.
Wendy and her family left Friona on Sunday for a vacation in Colorado.
"On behalf of the Samarron and Jackson families, we want to thank Wendy and her husband for coming to visit us. We are grateful they are part of our family now. We will see you soon Wendy," stated Richard.
To learn more about organ donation go to page 6 for information from the National Foundation for Transplants.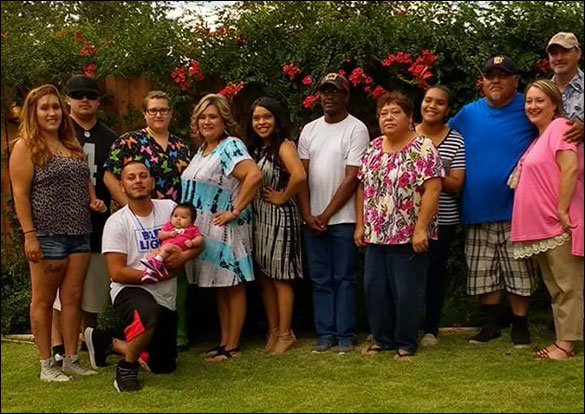 courtesy photo
Family and friends came together last Saturday to welcome Delia Jackson's heart recipient Wendy Tarver, right in pink. Pictured are Richard Samarron, Elvira Arellano, Megan Jackson, Billy Jackson, Bianca Arellano, Maria Jass, Vickie Samarron, Cassie Tapia, Anthony Tapia, Desiree Rando, Daniel Valdez, Danhia Rando, Wendy Tarver and Charles Tarver.