Chiefs win thriller, move to 5-0
The game had everything. Good plays, trick plays, and bad plays. Great individual effort and not so great penalties. Quality officiating and — you get the idea. It felt like a playoff game but it wasn't. It felt like a district game, but it wasn't. It was simply a hard-fought, exciting, never-say-die, exciting regular season game with Friona outlasting Dalhart 39-35.
It was also a game the Chieftains needed. Sure, wins over their Highway 60 and Highway 214 rivals were impressive and the road victory in the Hub City was nice, but you just felt the team needed to be tested some more before the start of district play. Adversity, non-penalties, and bad breaks are part of the game. Determination, perseverance, and mental toughness can result from such an environment. Chieftain fans learned a lot about their team and the team learned a lot about itself last Friday night. Go Chiefs!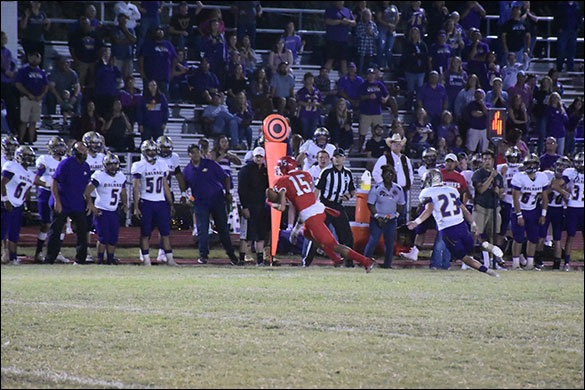 Josiah Rejino (#15) hauls in a pass from Jose Grado on a critical 4th down play late in the 4th quarter of last week's game against Dalhart. The pass play resulted in a first down and Friona eventually scored a touchdown and won the game 39-35 to remain unbeaten.