Friona defeats Alpine 36-21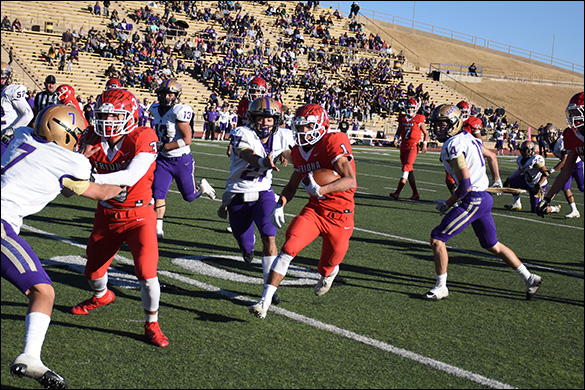 Elian Mendoza clears the way for Jacob Bautista in last week's Area Playoff game against Alpine.
For the first time in 23 years the Friona Chieftains are back in the Regional Playoffs. With their 36-21 win over Alpine in the Area Round, the 2019 team joins the 1996 Chieftains as the only two teams in Friona school history to reach the regional playoffs. By winning back to back playoff games, the Chiefs are now one of the top four teams in Region 1 and one of the top sixteen teams in the state of Texas. Friona will play Abernathy in a Regional Semi-Final game this Friday at 3:00 p.m. in Lubbock, Texas at Lowery Field. Go Big Red!
The Chieftains used a balanced attack to defeat Alpine last Saturday in Andrews, Texas. Jose Grado completed 22 of 30 passes for 173 and a touchdown. Jose was named the Offensive Player of the Game. Elian Mendoza was the leading receiver with 10 catches for 95 yards and one touchdown. Jacob Bautista rushed for 103 yards on 24 carries and scored the game's first touchdown. Rogelio Palacios only had 30 yard of rushing but scored three touchdowns in tough short yardage situations. He also caught a 24 yard pass late in the 4th quarter that kept a crucial drive alive. Tim Ally kick a field goal but was injured on the play and the Bucks were flagged for a roughing penalty allowing the Chieftains to decline the three points and score a touchdown.
On defense, the Chiefs bent some but did not break. Alpine had 398 total yards with 155 on the ground and 243 in the air but only managed to score 22 points. One of the highlights for the defense was not allowing Alpine to score right at the end of the first half. Friona forced three fumbles with recoveries made by Jose Rodriguez, Rogelio Palacios, and Xavier Hernandez. Xavier was the leading tackler and was named the Defensive Player of the Game.
In this week's Regional Semi-final matchup, the Chieftains will play the Abernathy Antelopes (11-2) who were Champions of Division 2 District 2-AAA. Abernathy beat Reagan County 75-0 in the Bi-District round and Childress 50-14 in the Area round of the playoffs.