It is mid-August, the temperature is in the upper nineties, and the action on the football field is unusually intense. Friona is hosting Bushland in a preseason scrimmage and both head coaches are watching carefully to make sure things do not get out of hand. The Chieftains and Falcons are not fierce rivals, but each team is looking forward to the upcoming season and all the players want to make a good impression.
Malachi Torres catches a pass and is tackled by a Falcon defensive player as he is running downfield. He has gotten the "wind knocked out of him" and is having trouble breathing. The situation is not unusual, running backs and receivers deal with it rather frequently. Football, after all, is a contact sport. But this time is different. The junior at Friona High School is feeling an unfamiliar pain in his back. Quite naturally though, if you are young and the adrenaline is flowing, you just work through it. A few plays later, Malachi dives for another pass and as he hits the ground the pain becomes more intense. He comes off the field looking for "Doc" to see what the problem is. Everything appears normal, so he is cleared to keep playing. However, as he is standing on the sidelines his condition begins to get worse. Malachi knows something is wrong, but he is not ready to quit playing just yet.
Breanna Rivera has been watching and is aware that Malachi is experiencing some pain. She is a freshman at Friona High School and is a Student Athletic Trainer (SAT). She and the other SATs have been "learning the ropes" with Head Athletic Trainer Michael "Doc" Taylor. They have been learning how to prevent, recognize and treat sports related injuries. The SATs have learned how to deal with all kinds of injuries from minor cuts and scrapes to life threatening events such as heart attacks. Every year, a week before the student athletes show up for two-a-day practices, the Friona Sports Medicine kids are at the school 8 hours a day learning and practicing the skills that one day may help to save the life of a student athlete or coach. Their focus has been on the safety and welfare of the student athlete. They are at every practice and are often the "eyes and ears" of the Head Athletic Trainer. Today, Breanna's focus is on Malachi and he is better off for it.
Pain is always a possibility while participating in any sport. It is the result of an injury and a protection mechanism to prevent further injury. The longer Malachi stands on the sideline, the worse the pain becomes. Breanna has been keeping a close eye on him and she believes that he is looking worse. Finally, she has seen enough. She grabs Malachi's helmet to keep him from going back onto the field. It is her judgment that he should not return to the game until he sees "Doc" again. His situation demands more attention.
Malachi is escorted back to the treatment area to be reassessed. His condition has definitely deteriorated. It is decided that he needs closer observation and the EMS ambulance is the nearest available location that affords some degree of privacy. Once in the ambulance Malachi's condition is monitored by both the Friona Sports Medicine team and Friona Emergency Medical Services. It is agreed that he should be taken to Parmer Medical Center immediately. Once there, he is diagnosed with a lacerated kidney. Due to the severity of the injury, he will need to be transported to Northwest Texas Healthcare System in Amarillo by Air Ambulance. Unfortunately, storms in the area prevent the medical helicopter from flying and the Friona EMS is pressed back into service. They safely and quickly transport Malachi to Amarillo where he spends the next three days in the hospital. His football career is on hold until next year.
This real-life event reinforces the whole idea of having Athletic Trainers, Student Athletic Trainers, and EMS personnel at each game and Athletic Trainers at every school district. It also justifies the untold time spent in instruction and training to make sure everyone is on the same page. Not every injury is serious, but if you are not prepared, any injury could be. Breanna was prepared and made the right decision. She is part of a team that very few people think about too much except when the need arises. However, when that time comes, everyone is thankful that "the team" is there and watching. Malachi is thankful that this highly trained team was watching over him.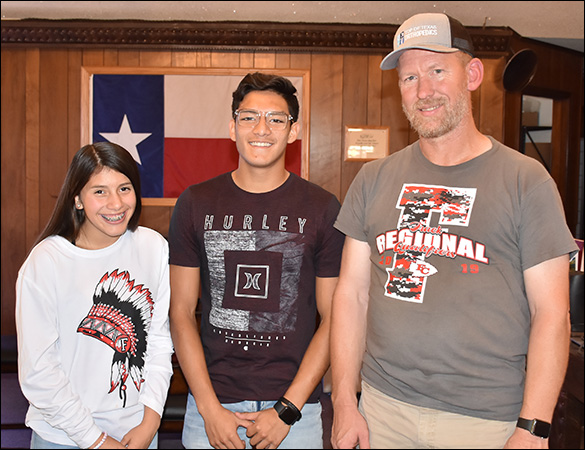 Breanna Rivera, Malachi Torres, and Michael "Doc" Taylor