Jodey Arrington Announces 2020
Re-election Bid For Texas' 19th Congressional District
On November 23rd, Congressman Jodey Arrington officially announced that he is running for re-election to the U.S. House of Representatives. Arrington was first elected to serve Texas' 19th Congressional District in 2016 and has since served on the House Agriculture Committee, House Budget Committee, House Veterans' Affairs Committee, the Joint Select Committee on Budget and Appropriations Reform, and is currently serving on the powerful House Committee on Ways and Means.
"I am deeply honored to represent the people and values of West Texas in our nation's capital and – if re-elected – I will continue my commitment to reining in Washington, restoring our freedoms, and returning power back to We The People," said Arrington.
Congressman Arrington describes himself as a strong fiscal conservative with a commitment to the Constitution, limiting the role of the federal government, and changing the broken culture of Washington. He will continue to fight for West Texas values in his third term.
Arrington served on the bicameral Conference Committee that successfully passed the 2018 Farm Bill, which included two amendments Congressman Arrington authored to strengthen West Texas agriculture producers, cotton farmers, rural hospitals, and Texas Tech University. He also led legislative efforts to promote Life, defend our fundamental Second Amendment freedoms, and protect our religious liberties.
Arrington continued, "West Texans want and deserve real solutions, and I am confident that I will continue to have their support as we work to strengthen trade deals for our producers, put patients – not government – back at the center of our health care system, remove burdensome regulations for our energy producers, and promote freedom and prosperity for the next generation of West Texans and Americans."
As a result of his leadership and conservative track record, Arrington has earned a 100% lifetime score from the Faith & Freedom Coalition, an endorsement from the Family Research Council, as well as endorsements from numerous colleagues, including former presidential candidate and United States Senator Ted Cruz and fellow West Texas Congressman Mike Conaway (TX-11).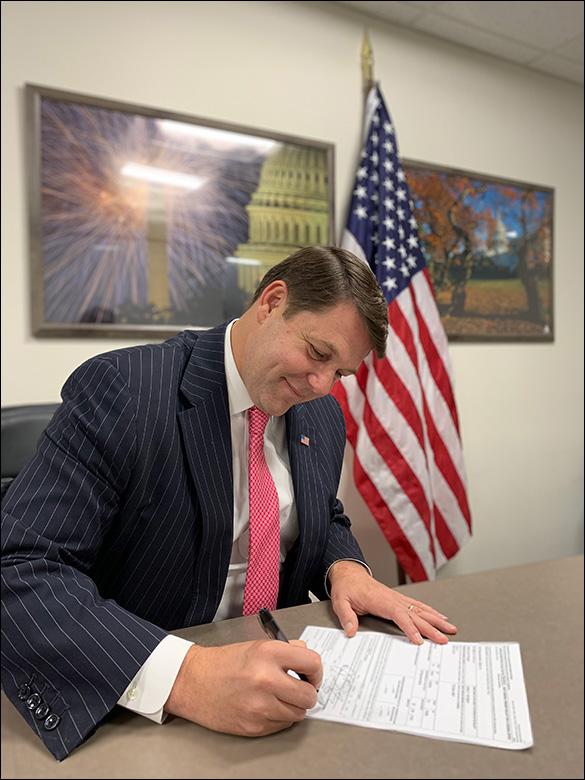 Rep. Arrington officially files for a place on the March 3rd, 2020 Republican Primary ballot in Texas' 19th Congressional District.