Squaws bring home the gold!
The Friona Sqaws are the District 1-AAA Varsity Girls Track Champions for 2019. The Squaws beat Bushland by 24 points to grab the title last week at Hornet Stadium in Tulia, Texas. Nine girls qualified for the Area Meet which will be held next Wednesday at WT High in Stinnett. Individual gold medal winners were Carly Drake in the shot put and Rebecca Schlenker in the long jump & triple jump. The 1600m relay team of Anay Chihuahua, Rebecca Schlenker, Emma Rector, and Bailey Pope also captured gold at the meet. Rickie Castillo set a new school record in the pole vault for the second week in a row with a vault of 9-6. Also, all three relay teams advanced to the area meet. The Friona Star will have complete coverage of the district track meet in next week's edition.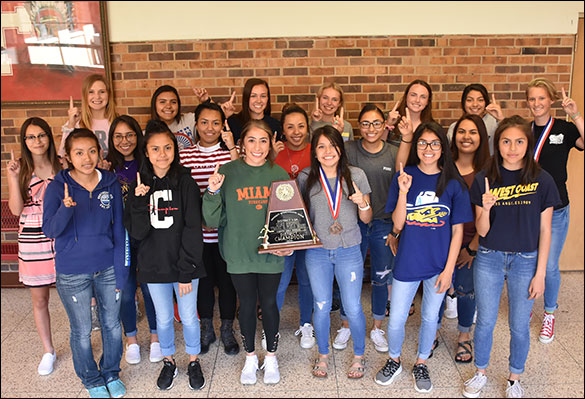 Back Row (l-r) Carly Drake, Jaci Trevino, Bailey Pope, Rebecca Schlenker, Emma Rector, Magdelena Licerio, Jodie Denton, Middle Row (l-r) Luz Garcia, Andrea Chavez, Adamaris Rivas, Audrey Trevino, Anahi Gonzales, Adriana Ortiz-Carrillo, Front Row (l-r) Esperanza Santiago, Anay Chihuahua, Rickie Castillo, Nohelia Bautista, Destini Fernandez, Leidi Chihuahua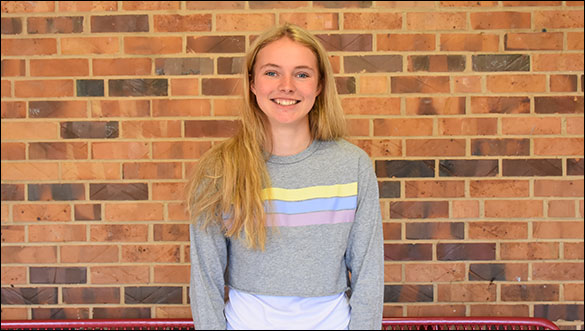 Amarillo Globe News
Athlete of the Week Honor Roll
Rebecca Schlenker
Rebecca qualified in five events for the area meet at the 1-3A district meet, winning gold in the long jump and triple jump while qualifying in the 400, 200, and 1600 relay.