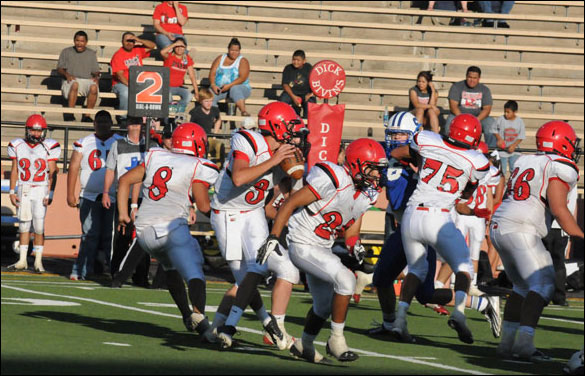 ron carr photo
Chieftain quarterback Mason Loflin (3) looks for a receiver as Diego Licerio (8), Stephen Dominguez (20), Adrain Prieto (75), and Edgar Guerrero (66) get ready to block.
Chiefs lose opener to Stratford
The Friona Chieftains opened the season on a very hot Friday afternoon at Dick Bivins Stadium in Amarillo. The 4:30 p.m. game time assured a hot afternoon on the artificial turf for the Chiefs.

It also affected the fans attendance as an unusually sparse Friona crowd endured the sun shining on the visitor's side. The early start, hot weather, a long weekend, plus harvest time kept many fans away.

It was a rough start for the Chieftains as the Elks of Stratford scored the first 35 points in the game, leading 28-0 at the half. The final score was 56-14. The Chiefs scored once in the 3rd quarter and once in the 4th, both touchdowns made by Francisco Martinez on 5- and 6-yard runs. Diego Licerio was good on the two extra points.

Sophomore quarterback Mason Loflin got the starting nod. He completed 4 of 17 passing attempts and had two interceptions. Three completions went to senior Brad Stowers for 40 yards and Licerio caught a 5-yard completion. Martinez gained 104 yards on 12 carries, Eduardo Rojas was 6 for 57 yards, and Stephen Dominguez gained 17 yards on 6 carries. Dominguez also had the Chiefs only interception in the game.

Friona tallied 241 offensive yards, 196 rushing and 45 passing. Stratford had 488 yards, 350 rushing and 138 passing. Coach Mike Prokop said the Chiefs still have a lot to learn but are working hard.

The Chiefs are open this week and host River Road for a homecoming game at Chieftain Field Friday September 14. Game time is 7:30 p.m. with homecoming queen festivities beginning about 7 p.m. prior to kickoff.