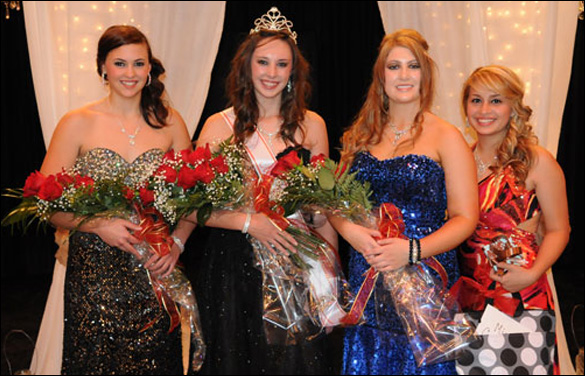 holly campbell photo
At the 2012 Miss Friona Pageant, l-r, Brianna Miller 2nd runnerup, Miss Friona Kendall Kimbrough, Lindy Wiseman 1st runnerup, and Miss Congeniality Joanna Hernandez. Thanks for a great evening to the Chamber of Commerce, volunteers, sponsors, judges, and especially the nine young ladies that entered the pageant.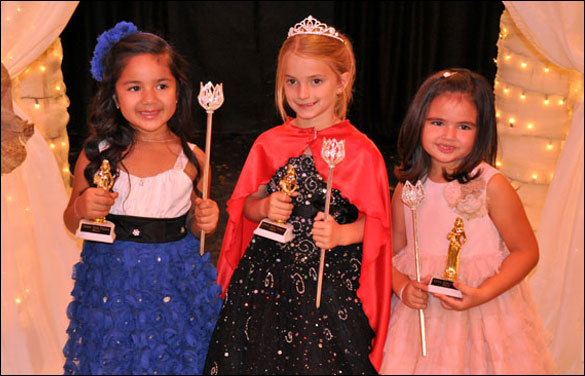 ron carr photo
Jaycee Burney, center, was crowned the 2012 Friona Little Miss Tuesday evening. Alezandra Rodriguez, left, was 1st runnerup and Ava Haddock was 2nd runnerup. Jaycee was sponsored by Veterinary Industries. Her parents are Cody and Melinda Burney. Alezandra was sponsored by Los Arcos Restaurant. Her parents are Efren Rodriguez and Daisy Delgadillo. Ava was sponsored by Friona Body Shop. Her parents are Styler and Jessica Haddock. More photos from the pageant in our photo section.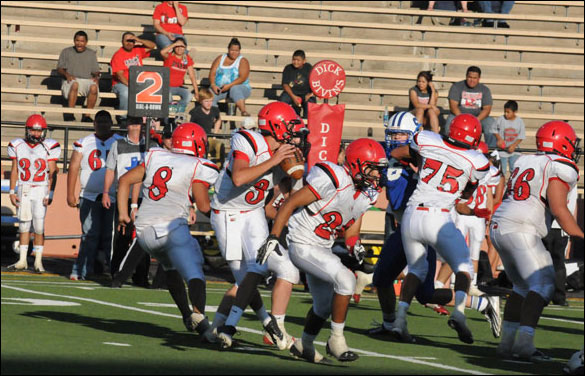 ron carr photo
Chieftain quarterback Mason Loflin (3) looks for a receiver as Diego Licerio (8), Stephen Dominguez (20), Adrain Prieto (75), and Edgar Guerrero (66) get ready to block.
According to a rain report that official weather guy John Gurley taped to the back door of the Star office, Friona has received a total of 6.77" of rain so far in 2012. In 2010 we received 20.15", with most of it falling in the May to August period. In 2011 we dropped to 7.21" total for the year. Another inch and we can surpass the 2011 total at least. Keep on praying if you are so inclined.
*****
The next Friona blood drive is Thursday September 27 from 12 noon to 7 p.m. at Calvary Baptist Church. Donors will receive t-shirts and ice cream sandwiches. A drawing will be held for the Friona donors and the winner gets a dinner for two at Hernandez Mexican Restaurant courtesy of owner Luis Hernandez. Look for donor info in this Star.
*****
Anniversaries we heard about this month. Jon and Laura Field 32 years. Eugene and Patsy Bandy 61 years. Alan and Nita Clark 45 years. Terry and Casey Sharrock 19 years. Howard and Pat Fleming celebrated 56 years. Pat graduated at FHS in 1956 and they got married in 1956. Congratulations to each and every one. If you have an anniversary to report be sure to let us know.
*****
Babies too! The Jacob Millers welcomed twin boys in Lubbock and Emily Allen Stowers had a baby girl in Amarillo, all born Monday. Congrats to the parents and all of the smiling grandparents. I'm sure we will have more info later won't we?
*****
It's always good to welcome our young folks back to Friona. Betsy Clark graduated FHS in 2003 then went away to West Texas A&M and Oklahoma City University in pursuit of a law career. (more...)
Snack Pak 4 Kids is coming to Friona
Snack Pak 4 Kids is a nonprofit program started in 2010 to provide nutritious weekend snacks for students who live in food-insecure homes. Many of these children are reliant on the school system for their main nutrition.
But what do they have to eat for dinner or over the weekend? These kids are sent home on Friday and may not have sufficient food until they return to school on Monday.
According to statistics, Texas and New Mexico have the highest rates of child food insecurity in the nation and we are right on the border. What can you do to help?
Dyron Howell of Amarillo started this program out of his garage two years ago. He and his family were feeding four children at an Amarillo elementary school. The program has now spread to the entire Amarillo ISD, Bushland, River Road, Hereford, Lockney, Clarendon, Walcott, Fritch, Tulia, and now Friona.
A weekly Snack Pak would include: 2 juice boxes, one easy open peach or mixed fruit cup, one package of Pop-Tarts, 2 boxes of individual size cereal, one pop top can of chili w/beans, beans & franks, or lasagna, one package pretzels, one package tropical fruit mix, one package shelled sunflower seeds, and one package animal crackers. Once a month one 16 oz jar of peanut butter and a box of saltines are included. Starting this year Southwest Dairies and Elanco are providing shelf-stable milk. (more...)
Chiefs lose opener to Stratford
The Friona Chieftains opened the season on a very hot Friday afternoon at Dick Bivins Stadium in Amarillo. The 4:30 p.m. game time assured a hot afternoon on the artificial turf for the Chiefs.
It also affected the fans attendance as an unusually sparse Friona crowd endured the sun shining on the visitor's side. The early start, hot weather, a long weekend, plus harvest time kept many fans away.
It was a rough start for the Chieftains as the Elks of Stratford scored the first 35 points in the game, leading 28-0 at the half. The final score was 56-14. (more...)