Margarita Alvarado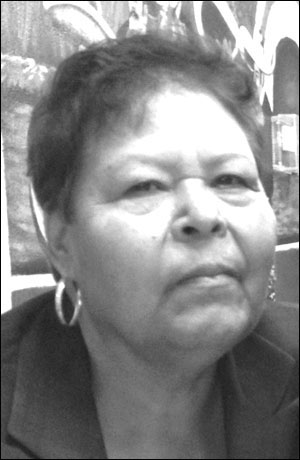 Margarita Alvarado, 66, of Bovina, Texas, died on Friday, September 7, 2012 in Amarillo, Texas. Mass of Christian Burial was held at 9:00 a.m. on Monday, September 10, 2012, at St. Ann's Catholic Church in Bovina, with Rev. Anthony Swamy Aakula, as celebrant. Burial followed in the Bovina Cemetery by Blackwell-Mullins Funeral Home of Friona, Texas.

Margarita was born on January 26, 1946 in Mexico to Andres and Consuelo Cervantes Rojas. She married Francisco Alvarado. She moved to Bovina, Texas in 1995 from Los Angeles, California. She was a homemaker and a member of St. Teresa's Catholic Church in Friona.

She was preceded in death by her parents, and one son, Steve Alvarado.

She is survived by her husband, Francisco Alvarado of Bovina; one daughter, Giselle Alvarado of Canyon, Texas; four sisters, Eustolia Rojas of Los Angeles, California, Yolanda Rojas of Mexico, Maria de la luz Rojas of Los Angeles, California, and Esperanza Rojas Villa of Pamona, California; five brothers, Nicolas Rojas Cervantes, Rodolfo Rojas Cervantes, and Steven Rojas Cervantes all of Los Angeles, California, Ricardo Rojas Cervantes of Bovina, Texas, and Andres Rojas Cervantes of Mattawa, Washington.


You may sign the register book www.blackwellmullins.com.

Martha Robledo Fabela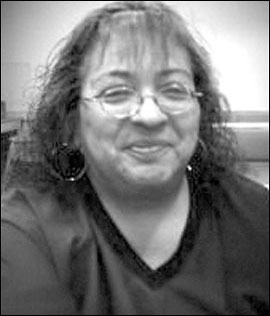 Martha Robledo Fabela, 52, of Bovina, Texas, died on Saturday, September 8, 2012 in Lubbock, Texas. Mass of Christian Burial was held at 1:00 p.m. on Tuesday, September 11, 2012 at St. Ann's Catholic Church in Bovina, with Reverend Anthony Swamy Aakula, Celebrant. Burial followed in the Bovina Cemetery by Blackwell-Mullins Funeral Home of Friona, Texas.

Martha Robledo was born on July 29, 1960 in Muleshoe, Texas, to Javier Robledo and Maria Aurelia Barboza Robledo. She married Richard Fabela in Bovina. She was a homemaker and a member of St. Ann's Catholic Church.

Survivors include her husband, Richard Fabela of Bovina; one daughter, Drusilla Michelle Faudoa of Bovina; two sons, John Paul Guzman and Richard Fabela both of Bovina; one stepson, Joeanthony Fabela of Muleshoe, Texas; her mother, Maria Aurelia Robledo of Bovina; one sister, Gracie Murillo of Floydada, Texas; six brothers, Hector Robledo of San Antonio, Texas, Eleazar Robledo and Rudy Robledo both of Amarillo, Texas, Victor Robledo of Colfax, Iowa, Bobby Robledo of Amarillo, and Roy Robledo of Bovina; and nine grandchildren.

To sign the register book online go to www.blackwellmullins.com.